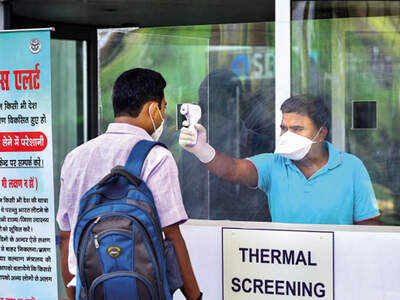 Representative image
LUCKNOW: The city's daily tally of Covid-19 cases crossed the 300-mark on Friday for the second consecutive day this month.
The number of recovered patients was also lower than the new cases for the second consecutive day, resulting in an increase in the count of active cases. The death toll remained at four like Thursday.
On Friday, 301 persons were diagnosed with the disease. The figure was the highest in the state and accounted for 14% of UP's total cases, according to the state Covid bulletin.
With 24 new patients, Gomtinagar again recorded the highest number of Covid-19 cases in In Lucknow. It was followed by Indiranagar (22), Rae Bareli Road (21), Alambagh
(20), Cantonment (20), Aashiana (19), Chowk (18), Vikasnagar (16) and Hazratganj (14), with Jankipuram and Aliganj clocking 11 cases each.
The city's caseload since the outbreak reached 66,544. Of these 62,438 (94%), including 250 on Friday, have recovered so far, while 930 (1.4%) could not survive.
The number of persons who tested positive for Covid-19 on Friday evening was 3,176, up from Thursday's 3,130. Two patients – aged 69 and 79 years – died at KGMU due to cardiopulmonary arrest.
FacebookTwitterLinkedinEMail