Delhi recorded 3,256 fresh Covid-19 cases on Saturday, which is not only the highest single-day spike in 73 days but also the first time during this period that the figure crossed the 3,000 mark. Daily cases have risen on every single day of the past week.
In another pointer to the rising infections in the capital, the number of
containment zones
crossed the 1,000 mark on Sunday for the first time to 1,076, reports Sidhartha Roy. With fresh cases exceeding the number of patients recovering, active cases crossed the 20,000 figure after a long time.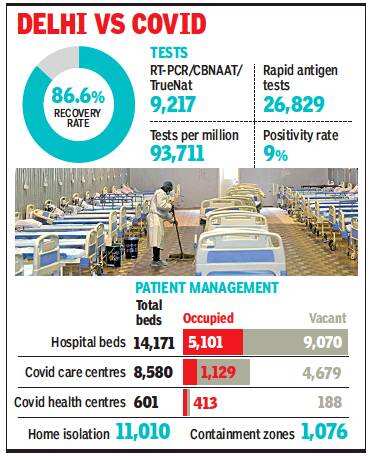 Active cases past 20,000 mark; over 1,000 sealed zones now
The total tally in the city mounted to over 1.91 lakh, while the death toll climbed to 4,567 with 29 deaths reported on Sunday. The rate at which new cases are being reported, Delhi is likely to cross the figure of 2 lakh total cases this week. The number of patients who have recovered stand at more than 1.65 lakh and the recovery rate, which was till very recently hovering around 90%, dipped to 86.6% on Sunday.
While the number of new cases breached the 3,000 mark on Sunday, 2,000 new cases have been reported in a day for the past five days this month.
The last time the city reported more than 3,000 Covid-19 cases was on June 26, when the figure was 3,460, the highest single-day spike before September 6. However, the positivity rate back then was 16.3% and the number of active cases was 27,657. Also, the recovery rate on June 26 was as low as 60.9% and the number of deaths reported was 63.
The number of active cases in Delhi is steadily rising and the city might need more ICU beds, according to doctors, if the numbers keep increasing. The figure on Saturday was 19,870 and 18,842 on Friday.
One of the main reasons for the number of new cases being reported going up is the focus on scaling up tests by the government. While Delhi was carrying out around 20,000 tests a day till less than a fortnight ago, chief minister Arvind Kejriwal announced on August 26 that the tests would be doubled to 40,000 a day.
Delhi on Saturday reported a record 38,895 tests – 9,562 RT-PCR/CBNAAT/TrueNat and 29,333 rapid antigen. On Sunday, the figure dipped slightly to 36,046 tests, which were carried out in the last 24 hours and included 9,217 RTPCR/CBNAAT/TrueNat and 26,829 rapid antigen tests.
In June, when daily cases of Covid-19 in Delhi had touched 3,000, people had to struggle to get Covid beds. Due to this, the government mandated private hospitals — both small and big — to reserve at least 20% of their capacity for Covid-19 patients in addition to increasing the capacity of its own hospitals.
Watch Covid-19: Delhi records 3,256 new cases, highest in 73 days