[ad_1]

MUMBAI: A day after the state added the highest number of Covid-19 cases,
Maharashtra
added 10,320 cases to its tally on Friday, its third highest addition so far. This is the second day in a row the state has added over 10,000 cases. With this, the state's case tally is 4,22,118. Active cases in the state on Friday crossed the 1.50 lakh mark and were at 1,50,662. The state reported 265 deaths on Friday, taking Covid fatalities to 14,994, very close to the 15,000 mark.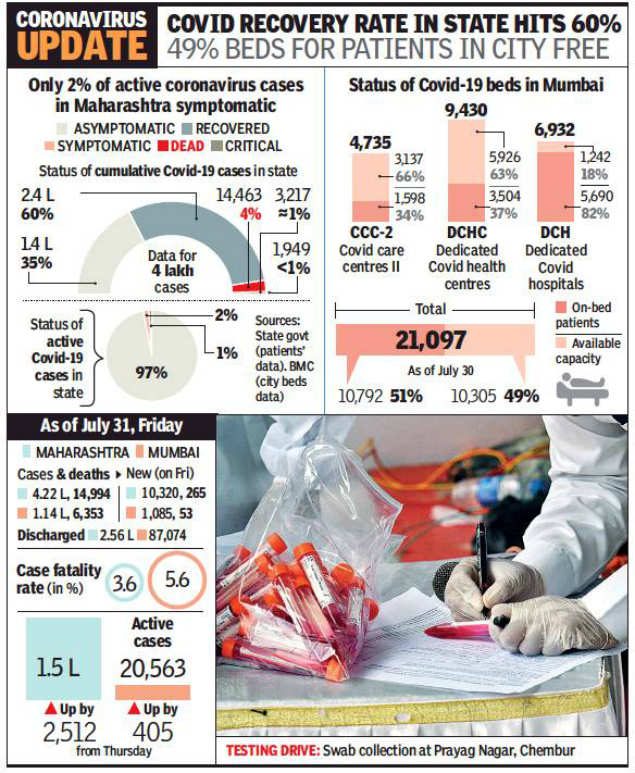 Mumbai added 10% of total cases reported in the state. With 1,085 fresh cases, the total cases in the city reached 1,14,284. The city added 53 deaths to take the toll to 6,353. The city's recovery rate hit 76%, way ahead of the national average of around 60%.
Mumbai's case doubling rate stands at 76 days and overall growth rate between July 24 and 30 is less than 1%. A BMC doctor said death rate is still a worry, but it could be due to cases coming in from MMR. Mumbai's case fatality rate is 5.55%. Infectious diseases specialist Dr Om Shrivastava, a member of the state task force, said Mumbai's Covid outbreak has been sorted out as far as the present wave is concerned. The city has 20,563 active cases. But Dr Shrivastava added that to continue with the progress, Mumbaikars would have to observe social distancing and sanitation and wear masks.
In the most telling statistic on Covid trends, Mumbai accounted for only a sixth of cases in Maharashtra throughout July as against a third in June. The state added 2.47 lakh cases in July, while the city added 36,636. The state had added half or 1.07 lakh cases in June.
Dr Ramesh Bharmal, director of BMC medical education and dean of Sion Hospital said, "Daily admissions to major BMC hospitals (KEM, Sion, Nair) are 40-50 a day and many regular and oxygen beds are vacant." But there is still a problem with easy availability of ICU beds. The hospitals discharge roughly 30 patients a day and register 4- 5 deaths daily. "A sizeable number of our patients hail from MMR and come at a late stage, with oxygen concentration is 30 to 40%," Dr Bharmal added.
Pune division recorded the highest daily addition of 3,430 cases followed by 2,276 from MMR. Pune division added 79 deaths, followed by MMR (75).
[ad_2]

Source link