Air Cargo Hub to be established in Dabra-CM Shri Chouhan


Dedicates and lays foundation stone of development works worth Rs. 167 crore in Dabra


भोपाल : शुक्रवार, सितम्बर 11, 2020, 23:00 IST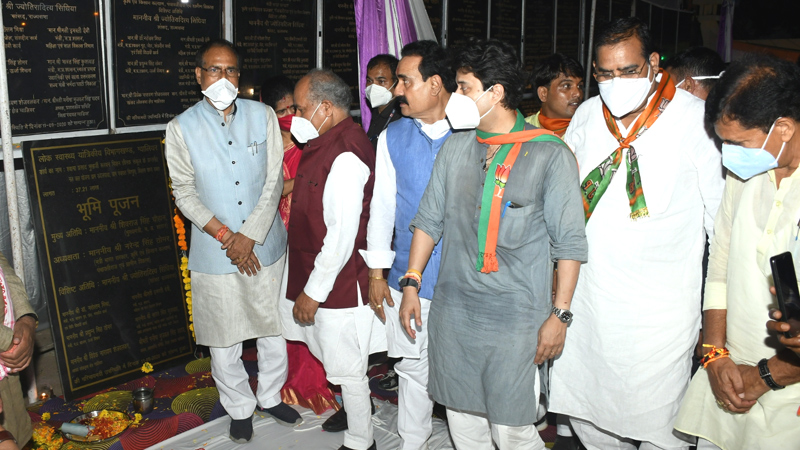 Chief Minister Shri Shivraj Singh Chouhan has said that the government will establish Air Cargo Hub in Dabra area, which will bring name and fame to Dabra not only in the state and country but in the entire world. He further mentioned that we all together will write a new chapter of development in Dabra area. Within the next 3 years, Dabra will also lead in development like Datia. Chief Minister Shri Chouhan was addressing the inaugural and foundation laying programme of development works, organized at Dabra stadium on Friday evening. On this occasion, giving big gifts to Dabra, CM Shri Chouhan along with the Union Minister for Agriculture, Panchayati Raj and Rural Development Shri Narendra Singh Tomar and Member of Rajya Sabha Shri Jyotiraditya Scindia dedicated and laid foundation stone of development works costing about Rs. 167 crore. Along with this, Shri Chouhan also distributed benefits of various governments' welfare schemes among the beneficiaries. The State Minister for Home Dr. Narottam Mishra, Minister for Woman and Child Development Smt. Imarti Devi besides Minister of State for Horticulture and Food Processing (Independent Charge) Shri Bharat Kushwaha were also at the programme.
Chief Minister Shri Chouhan said that the series of development, which started in Dabra today will not stop. He further stated that the long awaited Ladera Dam of the area will also be constructed. Shri Chouhan mentioned that within the next 3 years, the government will ensure that there will be no kachcha house in the entire state including Dabra. The government will get pakka houses constructed for all needy under the Pradhan Mantri Awas Yojana. He informed that the Prime Minister Shri Narendra Modi will give possession of houses through online programme to about one lakh 75 thousand needy people on September 12.
Chief Minister Shri Chouhan reiterated that the state government is committed to provide food grains to every poor at the rate of Re. One per k.g. In this order, eligibility slips will be distributed to poor under the campaign. He instructed the District Collector that no poor family should be deprived of eligibility slips in the district. Chief Minister Shri Chouhan further stated that effective steps have been taken by the state government to provide employment to youths. In this direction, the ban imposed on government jobs has been revoked by the state government.
Chief Minister Shri Chouhan said that the state government is working with full commitment for the welfare of farmers. The government has restarted the closed schemes in the interest of farmers and the poor. He informed that crop insurance money will be transferred to the accounts of farmers on September 18. Chief Minister Shri Chouhan said that the government will not let any roadside vendor be in trouble.      
Union Minister Shri Narendra Singh Tomar said that despite Corona crisis, Chief Minister Shri Shivraj Singh Chouhan has come to Dabra with a gift of Rs 167 crore. He said that after the formation of new government in Madhya Pradesh in the year 2003, there has been a revolutionary change in the field of ​​power generation and expansion of irrigation facilities in the state. The picture of entire Madhya Pradesh including Gwalior-Chambal region has changed.  New dimensions of development will be established in Madhya Pradesh under the leadership of Chief Minister Shri Chouhan in the coming time.
Rajya Sabha MP Shri Jyotiraditya Scindia said that we all are fighting together for the development of Dabra area. He said that the initiative to set up an air cargo hub at Dabra would establish new dimensions in the development of the area. Also, Dabra's identity will be established all over the world. Shri Scindia said that Chief Minister Shri Chouhan is a true public servant. Therefore, Madhya Pradesh is developing at a rapid pace.
Home Minister Dr. Narottam Mishra said that the scenario of Madhya Pradesh has changed a lot in the last six months. Chief Minister Shri Chouhan considers the entire state as his home and temple, as a result of which, the state is developing at a rapid pace. Dr. Mishra said that along with Minister Smt. Imarti Devi, we will change the scenario in Dabra. On the occasion, Home Minister Dr. Mishra urged Chief Minister Shri Chouhan to take initiative to establish an Air Cargo hub at Dabra. The Chief Minister accepted it with pleasure.
Women and Child Development Minister Smt. Imarti Devi said that by joining hands with the new government of the state, we are succeeding in fulfilling the dream of the development of Dabra area. After Shri Shivraj Singh Chouhan became the Chief Minister, there is no shortage of funds for development works due to his better management. Dabra has bagged development works costing several crores of rupees. Minister Smt. Imarti Devi said that we will work in the interests of all the needy, including farmers, labourers and businessmen of Dabra area.


Hitendra Singh Bhadauria