NEW DELHI: The rate of recovery from the
novel coronavirus
infection in the capital has improved in the past one month — from 28.2% on April 27 to 47.9% on May 22.
A month ago, while around 100 people were recovering every day, the count has now jumped to 300-400 people. Till Friday, 5,897 people out of a total of 12,319 positive
Covid-19
cases have recovered in Delhi. The rate is likely to cross 50% soon, an official said.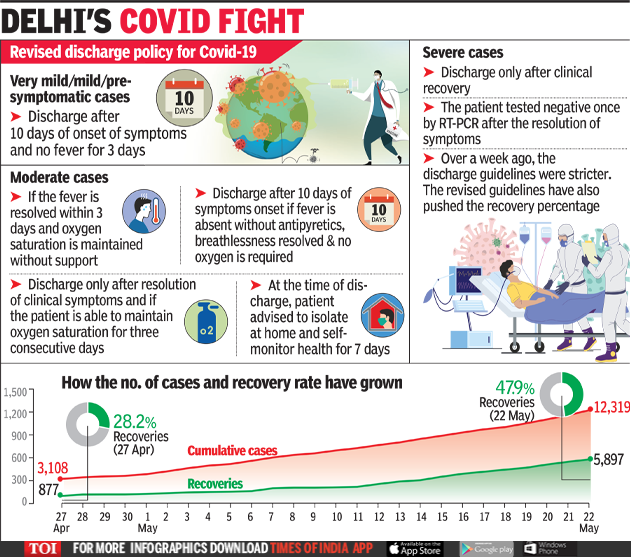 The government gives the credit to effective healthcare services provided to fight novel coronavirus. "I am so proud of our team of doctors and nurses who have provided the best possible treatment to our Covid patients. Delhi will soon have more recovered patients than the number of active cases," chief minister Arvind Kejriwal tweeted on Thursday evening.
Many experts believe the fact that Delhi has a young population has also been a key factor behind fast recovery.
The Covid-19 cases started rising steadily in March after many Indians arrived from abroad. A religious gathering also turned out to be a super spreader. On April 1, only six persons out of the total 1,637 positive cases were discharged. Along with the nationwide lockdown since March end, the low rate of recovery created a sense of panic among many people.
Now, besides the higher rate, the city is also witnessing many people with serious health issues recovering from Covid-19. Kusum Kanojia, a 55-year-old woman from east Delhi who is diabetic and hypertensive along with renal issues, was under acute respiratory distress when she was brought to RML Hospital. She was put on ventilator for more than a week and then kept in the Covid ward for more than one and a half months. Now she is back home.
Dr Harish Gupta, an elected member of Delhi Medical Council, said the rate of recovery in the country was better than many western countries as India had a large youth population. "Around 70% of Covid-positive persons in the capital are young. Most of these people have very mild to mild symptoms, thus the rate of recovery is fast," he said.
An official said the revised discharge policy issued on May 11 by the Union health ministry had also led to a rise in the rate. Earlier patients were discharged after two consecutive negative test results on RT-PCR, but now very mild, mild and pre-symptomatic admitted patients can be sent home after 10 days of symptoms onset and no fever for three days. Even moderate cases can be discharged if fever goes in three days and oxygen saturation can be maintained without support. In both cases, no RT-PCR test is required; the patients are just advised to isolate themselves at home and self-monitor their health for seven days.
A doctor at Rajiv Gandhi Super Speciality Hospital said since the revised guidelines had been implemented, no discharged person had reported re-occurrence of any Covid symptom.