NEW DELHI: New Covid-19 cases in Delhi surged to another new high, the third in as many days, with 571 more people testing positive for the disease on Thursday and 18 patients succumbing to the virus.
On Tuesday and Wednesday, the city had recorded 500 and 534 new cases, respectively. Delhi has seen a 16% rise in positive cases in the three days since May 18, pointing to a surge in infections as the city opens up after three lockdown phases.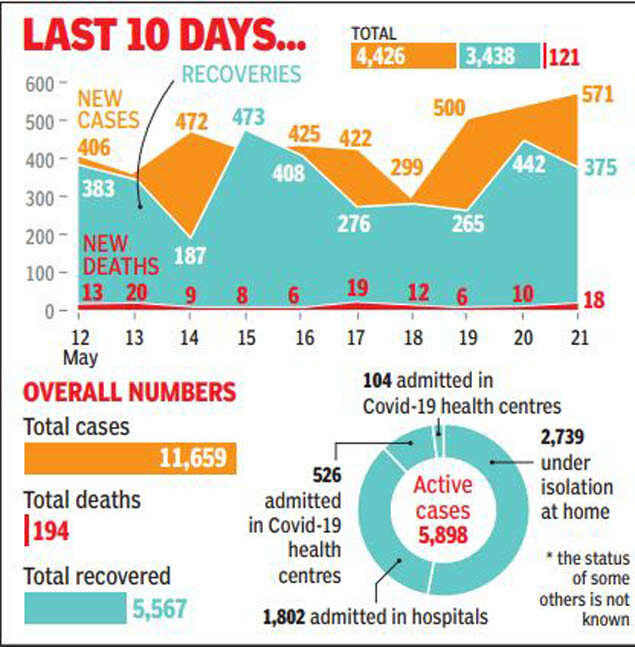 It is not clear from which areas the maximum number of new cases is coming from because the Delhi government is not making district-wise or containment zone-wise data public.
Covid cases may peak in next few weeks: Official
Delhi government has listed 77 containment zones where the maximum restrictions are in place to contain the spread of the disease. With 572 new cases, Delhi's total Covid-19 count reached 11,659. The state's death toll is now 194, with 18 more Covid-19 deaths being confirmed on Thursday.
Dr S K Sarin, chairman of Delhi's Covid-19 task force, told TOI that Covid-19 cases are still on the rise and there are high chances of a further spike in new cases in the city. "The peak of the infection, which we expected would happen in May, has been delayed. It is likely to be delayed by a few weeks," he said.
Delhi has allowed opening of private as well government offices and shops with certain riders. When asked if this could exacerbate the crisis, Dr Sarin said opening up of the economy was equally important and it was taking place across the country. "People need to wear masks whenever they go out and follow social etiquette to save themselves and help others from getting the disease," he said.
On the brighter side, nearly 48% of all patients have recovered from the disease in the state. "(I) am so proud of our team of doctors and nurses who have provided the best possible treatment to our Covid-19 patients. Delhi will soon have more recovered patients than the number of active cases (sic)," chief minister Arvind Kejriwal tweeted.
At present, Delhi has 5,898 active Covid-19 cases. Of this, government data shows, 2,739 are under isolation at home and 1,802 are admitted in various hospitals designated for the management of Covid-19 cases. Of those admitted in hospitals, 165 require ICU support while 24 others are on ventilators, officials said.
In the last 10 days, from May 12 to May 21, Delhi has recorded 4,426 new cases Covid-19 which is 38% of all cases reported till date. As many as 121 out of total 194 deaths related to Covid-19 have taken place in these 10 days.
"Many deaths took place before May 12 but they were listed in the health bulletin following a perusal of the case summaries of the deceased by a three-member committee constitute to assess the cause of death," an official in Delhi's health department said. Doctors attending to Covid-19 patients say it is difficult to manage elderly patients who develop severe respiratory distress.
"Most patients who have died at our hospital were elderly. They had co-morbidities also. Once such patients go on ventilator support, its difficulty to wean them off the machine," said a doctor, who did not want to be quoted. He added that the elderly and those with co-morbidities need extra care and precaution to save themselves.
Ghaziabad is red zone again
Once again, Ghaziabad is in the red zone. After 21 days of being in the orange zone, indicating reduced vulnerability to Covid-19 within the community, it was moved to the highest risk zone late on Wednesday. A notification issued by principal secretary Amit Mohan Prasad said Ghaziabad's city area, Agra, Meerut, Kanpur city and Noida are in the red zone. The parameters to decide which district is classified under which zone were also laid down in the notification — number of active cases, number of active cases per lakh population, doubling rate (the time it takes for the number of cases to double), case fatality rate (the number of deaths as a ratio of the number of cases), testing ratio (number of tests per lakh population) and sample positivity rate (number of samples that tested positive in comparison with the total number of samples tested).