[ad_1]

BENGALURU: Now that the results of class 12 exams of all boards are out, admissions in degree colleges are on in full swing.
With more students scoring high marks this year, merit list cutoffs have gone up in some top colleges in the city. Mount Carmel College (MCC), for instance, has seen an increase of 2-4% in cutoff scores across streams.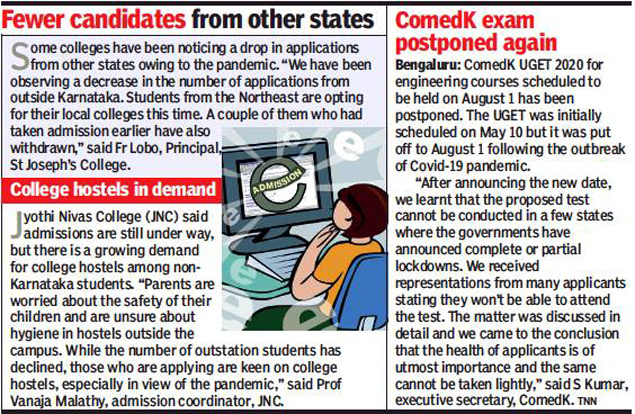 The highest cutoff marks in the first merit list is for the most-sought-after courses — communication studies and BA hons — which has reached 90% from last year's 88%. The cutoff for BCom Hons and BCom Professional has touched 89% as against 87% the previous year. While psychology combinations have seen a leap of 4% (to 84%), for journalism courses, it is up by 3% (to 80%).
"Cutoffs have gone up because the composite average taken for CBSE and ISC papers seems to have pushed up the scores for many students. The number of students applying with high marks is on the rise. The cutoffs for emerging programmes, which have been seeing good response, are high. Even the traditional arts and sciences programmes have a cutoff of 75-77% as against 70% last year," said Raghu VN, public relations officer of MCC.
St Joseph's College is witnessing a similar trend. "Compared to last year, cutoffs have gone up this year and reached 93%-95% in general category for subjects like BCom.Resultshavebeen good this time and the scores have improved tremendously," said Fr Victor Lobo, principal.
NMKRV College for Women said cutoffs are expectedto goup by 1-2%when the first list is out. "We have been noticing a change in the scoring pattern and cutoffs are expected to go up by 1-2%. Our journalism-English-psychology course and BCom are among the most sought after and attract students with more than 90% marks," said Snehalatha GN, principal.
Seshadripuram College principal HN Meera said she expected to see the cutoffs hovering around 80% like last year.
[ad_2]

Source link