[ad_1]

MUMBAI: BMC has postponed a 20% water cut by four days due to Eid and it will now be effective from August 5. It issued an advisory requesting citizens to use water carefully to avoid wastage and help save it till the next monsoon.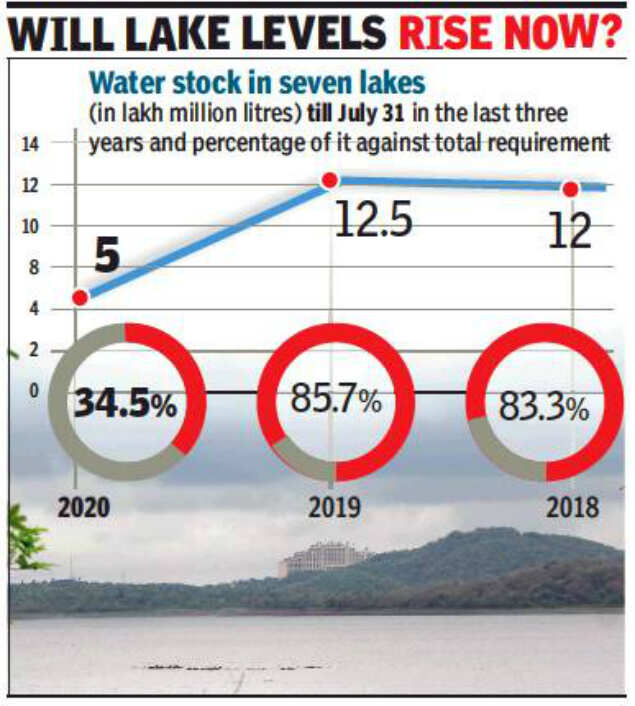 Civic officials said people can save water with tiny steps, like drinking it in small glasses, shutting the tap while shaving or brushing teeth, not wasting it during bath and getting taps repaired if there is a leakage.
Politicians from various parties had requested BMC not to curtail water supply during Eid.
BMC had decided to cut water supply as the stock in seven lakes is only 34% (around 5 lakh million liters) of the total requirement of around 14.5 lakh million liters. It needs that much water in lakes for uninterrupted supply till the next monsoon. It supplies 3,850 million litres daily in the city and during Covid-19 there was no reduction in supply.
Congress MLA Amit Patel said, "There is already low pressure supply in B ward (Dongri) and cuts will add to the suffering of residents. I requested the civic chief to reconsider his decision." Samajwadi Party MLA and corporator Rais Shaik said, "I requested senior civic officials not to cut water on the day of the festival as consumption is more at that time, and they agreed. BMC took the decision without informing group leaders."
Although it rained heavily in the city in July, rainfall in catchment areas of five of the seven lakes that supply water to the city (Bhatsa, Tansa, Upper, Middle & Lower Vaitarna, also known as Modak Sagar) are outside city limits. The two smaller lakes, Tulsi and Vihar, are within city limits.
Last year, till July 31, the stocks in the seven lakes was 86% and the year before it was 83%.
During the pandemic, BMC maintained regular supply despite closure of most commercial and non-residential (schools, colleges and offices) premises. It indicates that residents are consuming more during the pandemic.
[ad_2]

Source link