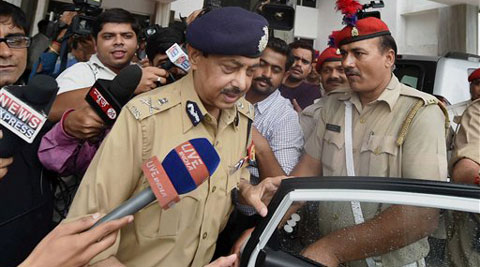 Uttar Pradesh DGP A L Banerjee comes out of the annexe after meeting Chief Minister Akhilesh Yadav about the gruesome rape and murder of a woman in Mohanlalganj area in Lucknow on Friday. (Source: PTI)
Accusing the Akhilesh Yadav government in Uttar Pradesh and the state police of "trying to shield someone" in the murder case of a 35-year-old widow in Mohanlalganj here, BSP on Saturday demanded a CBI investigation of the incident.
"The police theory on the rape and murder of the young woman is totally fake and concocted as it has failed to go into the details of the case. It appears that the government and police are trying to shield someone," senior BSP leader and former minister R K Chaudhary said here.
"There are several loopholes even in the post-mortem report which shows that the woman had both her kidneys, whereas actually she had donated one to her ailing husband," Chaudhary said, adding that it was required to be investigated if there was any kidney-selling racket active.
Chaudhary said his party has taken a serious view of the incident as well as other criminal incidents in the state and would soon meet Governor Ram Naik and submit a memorandum to demand CBI inquiry in the case, besides reiterating its demand for dismissal of the state government.
The woman from Deoria district was found brutally murdered on the night of July 16 after she resisted rape bid, according to police.
Guard of a private security firm, Ram Sewak Yadav (38), was arrested for the crime on July 20.
📣 The Indian Express is now on Telegram. Click here to join our channel (@indianexpress) and stay updated with the latest headlines
For all the latest India News, download Indian Express App.