Children's development is must for overall development of the nation

Governor Smt. Patel shares happy moments with officers and employees on Diwali
 


भोपाल : मंगलवार, नवम्बर 10, 2020, 19:25 IST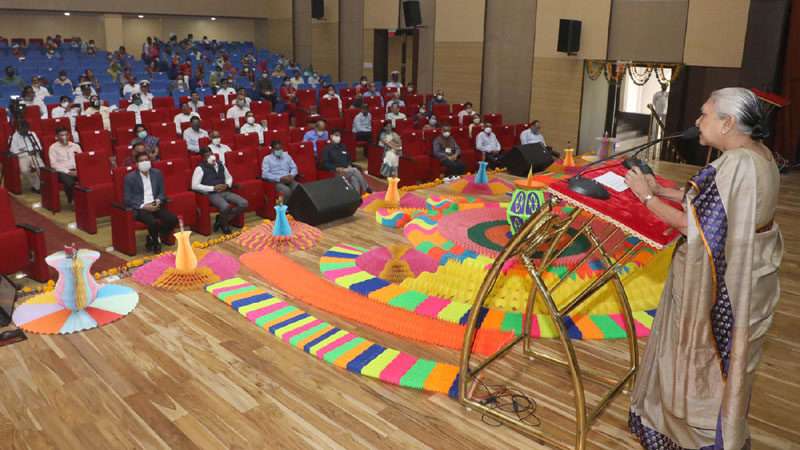 Governor Smt. Anandi Ben Patel has said that children are the future of the country. Their all-round development is the basis of the development of the nation. For their development, it is necessary to give them opportunities to showcase their talent. Along with better education, children need to be encouraged to pursue sports activities and creative arts of their interest like songs, music, poetry and story-writing. Governor Smt. Patel shared joyous moments and wished the officials and employees of Raj Bhavan for the forthcoming festival of Diwali. She told to make an annual calendar of cultural, creative and sports activities and to organize programmes in Raj Bhavan. The Governor distributed gifts to the employees on her own behalf for Diwali. She honoured artists Shri Imtiaz and Shri Arun Phadnavis. On this occasion, Principal Secretary Raj Bhavan Shri D.P. Ahuja was present.
The Governor said that Covid-19 pandemic has not ended. There are many works which are not affected by Corona. Hence, instead of giving up, we must live life, while adhering to instructions. She said that the Raj Bhavan belongs to all the officials and employees residing and working in the premises. She called for the use of auditoriums for creative activities workshops and cultural programme for children. Sports, skill upgradation competitions should be organized. She said that children and adults should be given the opportunity to roam around in the panoramic atmosphere along with being involved in yoga programmes in terms of health. She said that there should always be a place for entertainment in life. While extending greetings on Diwali, she said that everyone's family and their neighbors should remain happy.
At the outset, the Governor was welcomed by Shashank Tiwari and Riya Maurya, children residing in Raj Bhavan campus. Library in-charge Shri Amit Dixit told that the patronage and affection given by Governor Smt. Patel as the head of the family during his 23 years of service is incomparable. As the head of the family, Governor Smt. Patel's work and behaviour has been family-like in Raj Bhavan and its experience is remarkable. Programmer Smt. Manisha Shrivastava said that the bottommost issue is discussed the foremost and this has been followed by Governor Smt. Patel. The work done by her for the all-round development of children residing in the Raj Bhavan and for redressing the issues of the families residing in the Raj Bhavan campus is unforgettable. The programme commenced with Ganesh Vandana, Lakshmi Stuti and Deepawali greeting songs by the children residing in Raj Bhavan campus under the direction of Sangeet guru Shri Imtiaz. The decoration was done by artist Shri Arun Phadnavis with paper rangoli.
Smt. Surabhi Tiwari, Controller Household proposed the vote of thanks. Sahayak Satkar Officer Smt. Shilpi Diwakar conducted the programme.


Ajay Verma