[ad_1]



CM Shri Chouhan interacts with villagers in Jait village

Employment to be created along with betterment of poor and farmers
Performs puja-archana at Maa Narmada bank 


भोपाल : सोमवार, नवम्बर 16, 2020, 20:25 IST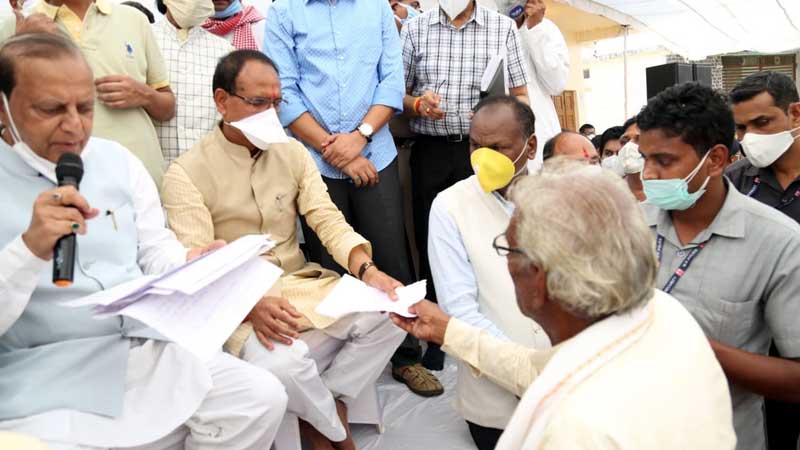 Chief Minister Shri Shivraj Singh Chouhan visited Jait village of Sehore district and extended Deepawali and Bhai Dooj greetings to the villagers. CM Shri Chouhan said that along with the betterment of poor and farmers, maximum employment will be created in the state. He further mentioned that in the next 3 years, he will work with dedication in the public interest. The government in the state will be more delicate than flower for gentlemen and more severe than thunderbolt for wicked. Chief Minister Shri Chouhan said that the people have once again given me an opportunity to serve the state in the by-election held recently in the state. He will not leave any stone unturned in serving the people of the state.
After Deepwali Milan, Chief Minister Shri Chouhan received applications related to the problems of the villagers and immediately resolved their problems in a meeting with Collector and officials concerned. CM Shri Chouhan said that the villagers, whose problems have remained unresolved, their problems will be resolved within the time-limit. In this regard, instructions were given to the officers present on the occasion.
Chief Minister Shri Chouhan instructed to complete all the cases of Rural and Urban Street Vendors Yojana related to Budhni assembly constituency soon. He said that an amount of Rs. 10 thousand should be made available to all street vendors soon to enable them to conduct their businesses smoothly. Chief Minister Shri Chouhan said that there will be no shortage of funds for public welfare works and justice will be done in the interest of public. No injustice will be done to anyone.
Chief Minister Shri Chouhan with wife Smt. Sadhana Singh performed puja-archana at Kheda-Mata Temple, Hanuman Temple and Maa Narmada Ghat in Jait village. He had darshan at the Mahakal temple of the village and performed puja-arcahana of Dooj at his residence with the family. Member of Parliament Shri Ramakant Bhargava, Collector Shri Ajay Gupta, public representatives and officers were present on the occasion.


K.K. Joshi
[ad_2]

Source link