CM SHRI CHOUHAN LAUNCHES BONUS DISTRIBUTION TO TENDU LEAF PLUCKERS

184 CRORE TO BE PAID AS BONUS
Rs. 12.82 CRORE TRANSFERRED TO 11 SOCIETIES
CM INTERACTS WITH TENDU LEAF PLUCKERS 


भोपाल : शनिवार, मई 23, 2020, 20:26 IST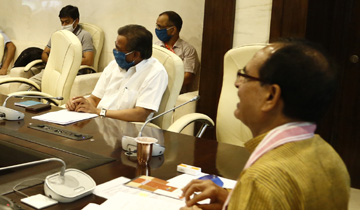 Chief Minister Shri Shivraj Singh Chouhan launched the distribution of Tendu leaf bonus to the pluckers for year 2018 through single click at Mantralaya today. An amount of Rs. 184 crore will be paid to them. Today a sum of Rs. 12.82 crore was paid to 11 societies of East Mandla Forest Circle. Remaining pluckers will receive the amount through societies.
Chief Minister Shri Chouhan interacted with Tendu leaf pluckers through videoconferencing. Principal Secretary, Forests Shri Ashok Varnwal and PCCF were also present on the occasion.
Price of Minor Produces Increased One and Half time
The Chief Minister said that the state government has increased the price of different forest produces 19 to 53 percent with a view to increasing the income of tribal people, so that they can get relief in this time of crisis. The government is collecting Vanopaj through Laghu Vanopaj Sangh on MSP. Besides, works are being carried out on a large scale under MNREGA in all areas to provide employment to everyone.
Rs. 50 Crore for Mahua Flower Sale
The Chief Minister said that after increasing the MSP on Mahua flowers the state government has purchased about 1.25 lakh quintal flowers at price higher than the fixed by Laghu Vanopaj Sangh and traders, which will fetch an income of over Rs. 50 crore to the pluckers on end of season.
Rs. 26.38 Crore Cash Payment to 32 lakh Pluckers
Chief Minister Shri Chouhan said that cash payment of Rs. 26.38 crore has been made to Tendu leaf pluckers against collection of 9.74 lakh standard bags through 32 lakh pluckers of about 11 lakh families. Tendu leaf collection rate is Rs. 250 per 100 standard bags in the state. This year 16.29 lakh standard bags of Tendu leaf is proposed against which Rs. 400 crore will be distributed to the pluckers. By now, 09 lakh 05 thousand standard bags of tendu leaf have been collected.
Mamaji paani ki kuppi abhi bhi chal rahi hai
A plucker from North Balaghat district Smt. Vimla Uike, addressing the CM as Mamaji said that aapke dwara di gai sari aur paani ki kuppi abhi bhi chal rahi hai. Shri Chouhan said that now he has become CM again and would take good care of all. He said that their area is intact by Corona and asked them to take all precautionary measures to keep virus out of their area.
901 Pluckers Benefited under Mukhya Mantri Tendu Patta Sangrahak Yojana
Chief Minister Shri Chouhan informed that the state government is implementing Mukhya Mantri Tendupatta Sangrahak Yojana under which a sum of Rs. 10 thousand is provided to the kin on normal death of a plucker, Rs. 20 thousand on partial disability, Rs. 50 thousand on total disability and Rs. 2 lakh in case of an accidental death. A sum of over Rs. 4 crore has been paid to 901 pluckers under it.
2200 Students Benefited under Eklavya Shiksha Yojana
The Chief Minister Shri Chouhan informed that Eklavy Shikha Yojana is being implemented to provide better education to tribal children. Under this an amount of Rs. 12 thousand to Rs. 50 thousand is given per annum to the students of class 9th to Graduation. So far, 2200 students have been paid Rs. 2.32 crore.
Have Wages Been Paid to All of You?
The Chief Minister Shri Chouhan interacted with pluckers including Shri Shivkumar Jharia from village Adampur in Mandla district, Shri Dhanu from Bhimpur in Western Betul district, Shri Deepnarayan Sahu from village Semaritoli in Shahdol district and Shri Panchu Parmalal Ahirwar from village Pipara in Chhatarpur district. The Chief Minster asked them whether they have been paid the wages for Tendu leaf collection or not and whether they have any inconvenience. They told him that they are getting the wages regularly without any inconvenience. They said that how can they have any problem when he is the CM.
MSP of Minor Forest Produces
| | | | | |
| --- | --- | --- | --- | --- |
| S. No. | Minor Forest Produce | Old Rates | New Rates | Increase in % |
| 1 | Achar Guthli | 109 | 130 | 19% |
| 2 | Palash Lac | 130 | 200 | 53% |
| 3 | Kulum Lac | 203 | 275 | 35% |
| 4 | Harra | 15 | 20 | 33% |
| 5 | Bahera | 17 | 25 | 47% |
| 6 | Bel Guda | 27 | 30 | 11% |
| 7 | Chakod Beej | 14 | 20 | 42% |
| 8 | Honey | 195 | 225 | 15% |
| 9 | Mahuha Flower | 30 | 35 | 16% |
| 10 | Mahua Beej | 30 | 35 | 16% |
| 11 | Karanj Beej | 35 | 40 | 14% |
| 12 | Neem Beej | 23 | 30 | 30% |
| 13 | Sal Beej | 20 | 20 | – |
| 14 | Nagar Motha | 27 | 35 | 29% |


Pankaj Mittal