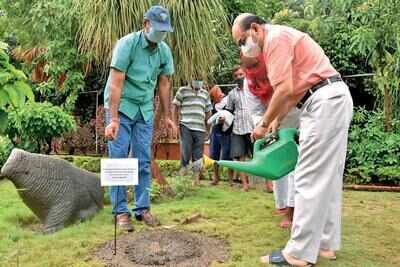 Varanasi: A three-day international webinar on 'Covid-19 and its Global impact' organised by the department of economics, Arya Mahila PG College began on Friday.
Addressing the inaugural session, UP minister Neelkanth Tiwari focussed on the challenges faced by the Indian economy and tourism industries during this period of crisis. He said that the pandemic should be seen as a golden opportunity as companies are looking up towards UP for new investments/ventures, which would generate employment at large scale in the state.
Noted academician Prof Ravi Srivastava, director, CES, Institute of Human Development Delhi, delivered his talk on the issues of migrant labourers. He said this had been the most massive migration since independence, and millions of people lost their livelihood.
Prof Swati Dhingra from London School of Economics, UK, talked about Covid-19 and Sampoorna Rozgar, while Prof BV Singh from the department of economics of BHU emphasized the uncertainties arising in the post-corona scenario.
Three speakers were invited for the technical session. Prof Nidhi Sharma from department of economics, BHU discussed the challenges and opportunities for international trade, while Dr Mohan Chutani, former IES officer, talked about the economic recovery and stimulus package. Prof Mrityunjai Mishra, department of economics, BHU said, though COVID-19 has caused severe loss to the economy, but it has enriched the environmental quality.
The programme commenced with the address of manager Arya Mahila PG College Varanasi Dr Shashikant Dikshit. Principal Prof Rachana Dubey welcomed the guests while organizing secretary Dr Annapurna Dixit conducted the program and introduced the theme of the webinar. More than 800 participants from different parts of the country and overseas participated in the online event.