Corona control efforts and arrangements to be constantly expanded

State's recovery rate touches 68 percent
CM Shri Chouhan conducts review through video conferencing from Indore 


भोपाल : सोमवार, जून 8, 2020, 19:49 IST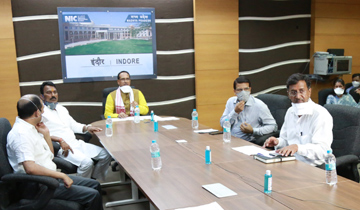 The Chief Minister Shri Shivraj Singh Chouhan while conducting review of Corona control efforts during his visit to Indore, instructed that despite increase in recovery rate, works like corona testing, beds arrangement in hospitals, quarantine and ICU arrangement should be carried out constantly. Keeping in view the possibility in increase in number of patients, constant awareness should be maintained in contact tracing and containment. Shri Chouhan sought detailed information about efforts to control corona in Indore as well as other districts. It was informed in the meeting that the recovery rate of the state has become 68 percent. The recovery rate of Indore is 65 percent and is better than Pune, Chennai, Mumbai, Delhi and Hyderabad. The Chief Secretary Shri Iqbal Singh Bains also attended the video conferencing.
Shri Chouhan mentioned that work at fast pace should be carried out in the state to take the total number of beds to 85 thousand. Even though one-third of the patients are admitted in compare to the number of beds available at present, our preparation should be such that the state should not come across problems due to the possibility of more spread of the virus. He emphasized the need for further increase in the recovery rate of Madhya Pradesh. The Chief Minister said that there should not be any laxity in virus control efforts. The work of public awareness should also go on continuously. After Unlock-1, the situation should move towards continuous improvement. Efforts should be made to accept this challenge with full courage.
Rapid improvement in Indore
TheChief Minister Shri Chouhan reviewed the corona control efforts in Indore in detail. He instructed Collector Indore and other officials to make necessary arrangements by anticipating possible situations of virus control by the end of June and in July. He asked the doctors to enforce necessary measures by holding dialogues.
It was informed on this occasion that a total of 48 thousand 51 samples were taken in Indore, out of which 45 thousand 411 were tested and 3785 were found positive. A total of 2454 patients went back home after recovery. At present, there are 1174 active cases in Indore district. As against the total availability of 3211 beds, 599 beds are in use, which is only 23 percent. Active cases are declining. The doubling rate is 37 days as of last week, while it is 21 days in Madhya Pradesh and 14 days in India. About two thousand samples are being taken every day. Fast improvement in situation has recorded in Indore as compared to April. The mortality rate has also come down. It is currently 4 percent which is lower than cities like Ahmedabad, Jaipur and Pune. Arrangement of oxygen, beds and ICUs in hospitals is being continuously enhanced. It was told that by June 15, necessary civil works will also be completed. Patients visiting Fever Clinics are being counseled. As many as 1141 patients referred out of 15,000 patients, who visited these clinics. There are currently 25 containment zones in Indore, covering a population of 3.3 lakh. Besides treatment arrangement in M.Y. hospital for patients suffering from other diseases, OPD and other arrangements are being expanded in Choithram hospital for coronavirus. The use of mask has been made mandatory. All necessary measures are being taken for early identification of patients. The Chief Minister Shri Chouhan directed the officials to make all necessary efforts with alertness in rural areas adjoining Indore.
CM Shri Chouhan reviews District wise Virus control efforts
At the state level review, theChief Minister Shri Chouhan instructed that proper arrangements should be made for screening people arriving in all districts from outside. There should be no negligence at any level to control the virus. Fever Clinic should work with full potential. Cooperation of private doctors should also be sought. Each and every positive case should be analyzed. The Additional Chief Secretary Health Shri Mohammad Suleman informed that 64 patients in Indore and 60 in Bhopal have recovered yesterday. Bed capacity in ICUs is being increased in the entire state.
The Chief Minister while issuing directives in connection to Bhopal, Rajgarh, Shajapur, Khargone, Burhanpur, Neemuch, Ratlam, Mandsaur, Raisen, Badwani, Chhatarpur, Anuppur, Gwalior, Ashok Nagar, Sheopur, Morena and Bhind directed that teams working for controlling Corona should play an active role in discharging their duty. Shri Chouhan instructed to send special teams to Sheopur and Bhind for strengthening the corona control efforts. He held case wise review of 3 positive cases found in Sheopur. In-Charge of Chambal Division, the Principal Secretary Shri Malay Shrivastava informed that efforts have been increased in view of problems in Chudi Bazar area of Sheopur. Out of the total 399 suspected patients, 362 have been kept under home isolation. Samples of all 50 people have been taken, who came in first and second contact with a person with corona virus.
Shri Chouhan sought detail information from in-charge officers as regard to 8 positive cases of Rajgarh, 3 of Ashok Nagar, 8 of Ratlam, 5 of Chhatarpur, 9 of Morena, 4 of Khargone and 14 of Bhind. As regard to Bhind, it was informed that 80 percent positive cases have been found because of people came from outside. A separate check point has been made in Malanpur. Shri Chouhan directed to register an FIR against a person, who was spreading news as regard to curing corona by providing Taweez (Amulet) in Ratlam. He also directed to take special care in Gwalior and Burhanpur.
The Chief Minister instructed that efforts should be continued at every level for controlling corona and general public should be advised to follow the social distancing norm seriously.
Employment to over 25 lakh labourers
Shri Chouhan also sought information pertaining to providing employment to migrant labourers under the MNREGA works and implementation of Shram Siddhi Abhiyan. The Additional Chief Secretary Panchayat and Rural Development Shri Manoj Shrivastava informed that 25 lakh 30 thousand 521 labourers are getting employment through MNREGA this year as compared to 12 lakh 39 thousand last year. Ninety five percent of the total wages has been paid. The Principal Secretary Agriculture Shri Ajit Kesri enlightened that the procurement of Gram and Mustard has been completed. Tiwda mix Gram is being procured now and the arrival of these produce is continuing as the procurement date has been extended in the interest of farmers. Four lakh 70 thousand MT Gram has been procured in the state. Bags have been arranged for about 8 lakh MT. NAFED is cooperating in this regard. The Chief Minister Shri Chouhan also sought latest information from the Principal Secretary Food, Civil Supplies and Consumer Protection Shri Shivshekhar Shukla as regard to the wheat procurement activity. He congratulated all the staff for the state attaining first rank in the country in wheat procurement.


Ashok Manwani