GURUGRAM/CHANDIGARH: Only 8% of Haryana's population has developed antibodies against Covid-19, according to the results of a sero-survey that was held last month and covered nearly 19,000 people in all 22 districts of the state. The findings were released on Friday.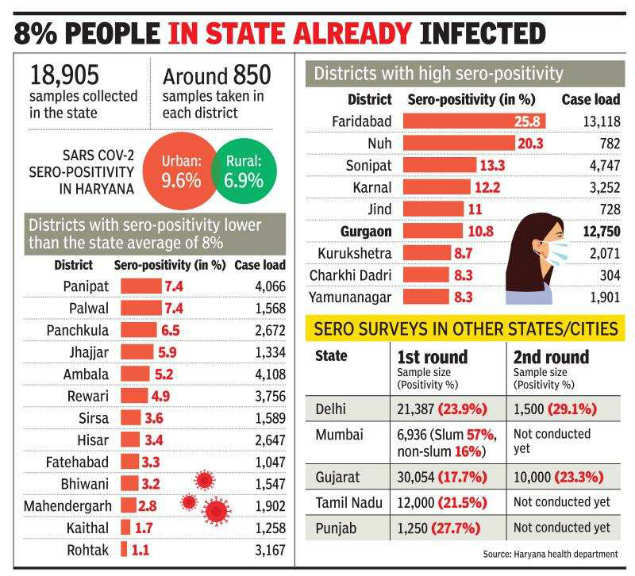 In contrast, in the two sero-surveys conducted by Delhi in June-end and August first week, covering 21,000 and 15,000 people respectively, 23% and 29% were found to have antibodies.
In two key takeaways, urban areas and NCR districts reveal a higher exposure. While sero-positivity in urban areas is 9.6%, it is 6.9% in rural areas. Faridabad (25.8%) has the highest sero-positivity rate in the state, followed by Nuh (20.3%) and Sonipat (13.3%). Districts with a sero-positivity rate higher than the state average are Karnal (12.2%), Jind (11%), Gurugram(10.8%), Kurukshetra (8.7%), Charkhi Dadri (8.3%) and Yamunanagar (8.3%).
At 1.1%, Rohtak has the lowest sero-positivity. Other districts with sero-positivity lower than the state average are Panipat (7.4%), Palwal (7.4%), Panchkula (6.5%), Jhajjar (5.9%), Ambala (5.2%), Rewari (4.9%), Sirsa (3.6%), Hisar (3.4%), Fatehabad (3.3%), Bhiwani (3.2%), Mahendergarh (2.8%) and Kaithal (1.7%).
Faridabad also has the highest sero-positivity rate among both urban and rural areas, 31.1% and 22.2%, respectively. Gurugram's urban areas have a sero-positivity rate of 18.5% while its rural areas have 5.7% exposure.
So far, Haryana has recorded 71,983 Covid-19 cases and 759 deaths. It has a recovery rate of about 80%. Dr SB Kamboj, the Haryana director general (health services), said that as the majority of people in the state are still vulnerable, all containment measures need to be continued with the same rigour.
The sero-survey — the first in the state — was conducted over three days, starting August 21, in collaboration with the Department of Community Medicine and School of Public Health, PGIMER, Chandigarh. A total of 18,905 samples, or 850 from each of the 22 districts (500 from rural and 350 from urban), were collected. The health department selected 16 clusters — 12 rural and four urban — for taking blood samples, which were tested for IgG antibodies. The data was collected using GPS and uploaded to a mobile app.
Rajeev Arora, additional chief secretary (health), said the findings will be useful in designing strategies and implementation of containment measures in Haryana. "It will help us to determine the burden of Covid-19 at the community level and monitor transmission trends," he said.
Arora said the reason for the higher sero-positivity rates in NCR districts could be the high density of population in urban slums and daily movement of a large number of people in the region.
Asked why the survey results had thrown up a big difference between Gurugram and Faridabad, a senior health official said Faridabad had ramped up testing much later and initially didn't test many people with Covid symptoms or influenza-like illness (ILI). Had their samples been taken at the time, he added, they might have returned positive.
Till about a month ago, Gurugram had the highest number of Covid cases in the state, after which it was overtaken by Faridabad. As of Friday, Gurugram's caseload stood at 12,750 while that of Faridabad was 13,338.
In the case of Rohtak, the official said that the sero-positivity rate may be low because of the district's late surge in mid-July. Antibodies usually appear after 21 days of recovery, and therefore, they may not have developed when the survey was held in August. "Also, a majority of Rohtak's population lives in a rural set-up, which could have led to low positivity," said a senior health official.
Since the outbreak of the pandemic, cities have struggled to contain cases in dense clusters, where maintaining social distancing is difficult.
Apart from Haryana, states such as Maharashtra and Tamil Nadu have also completed the first round of sero-surveys. Around 57% in Mumbai's slum and 16% in its non-slum areas had exposure while in Tamil Nadu, the sero-positivity was 21.5%. In Gujarat, the first round showed 17.6% sero-positivity while in the second survey, 23.2% had antibodies.