MUMBAI: The state's
Covid task force
has recommended opening up of all religious places that have been shut since the lockdown was imposed in March. "There is no reason to not open temples as long as social distancing norms are followed," a task force member said on Saturday.
There is a growing clamour for reopening places of worship from political parties as well as religious groups. Since August, courts have allowed Jain and Parsi communities to open religious places for specific festivals.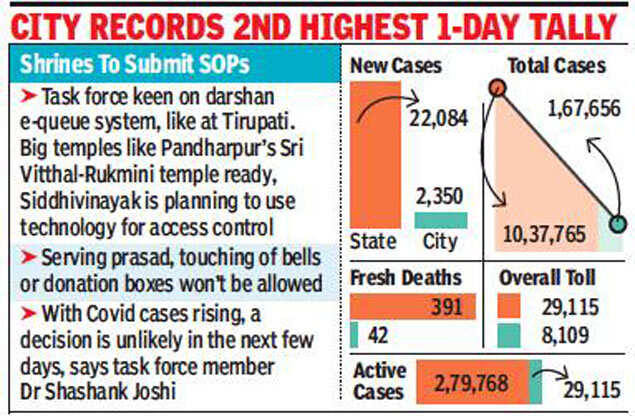 The recommendation comes at a time when the state, including Mumbai, is witnessing a daily surge in Covid cases. Maharashtra has reported more than 10 lakh cases and 28,000 related fatalities.
However, Dr Shashank Joshi, a member of the task force, said due to the rapidly rising cases, it has been decided that the decision to reopen religious places, gyms and restaurants be put on hold for a few days.
'Restaurants can start at 20% capacity, increase gradually'
As far as religious places are concerned, it is crucial to ensure the place has an appropriate crowd-control mechanism and it is not poorly ventilated," he added.
Chief minister Uddhav Thackeray had called the task force on Wednesday to review the Covid-19 situation and discuss opening up further. Members were in sync with the CM's decision not to open up railway services or restaurants completely. "While the frequency of trains that operate for essential workers can be increased, restaurants should start with merely 20% of their seating capacity. Both services can be increased gradually," said a doctor.
Officials said while the state was considering opening up temples and dine-in facilities inside restaurants, starting train services for all is not an option at this point.
BMC additional municipal commissioner said opening of religious places was discussed at length. The consensus was that places that have adequate security measures to manage crowds should be allowed to open. The state government will take the final decision on opening up religious places.
In August, SC allowed three derasars to stay open for two days in Mumbai for Paryushan. On September 2, HC allowed the Parsi community to offer Farvardiyan prayers at Doongerwadi tower of silence for a day after the state government had denied them permission.
Maharashtra, however, has so far refused to open temples unlike some states that did so in June. "There is no reason why Maharashtra's temples cannot follow the e-queue system popularized by Tirupati temple. People should learn to book a darshan," said a task force member.
Officials said the government will ask big temples to submit SOPs for reopening. Cooking and serving of prasad inside temples and touching of bells or donation boxes is unlikely to be allowed, said officials.
Vitthal Joshi, executive officer at Pandharpur's famous Sri Vitthal-Rukmini temple, said they have an online system where devotees can book slots.
Sources said Siddhivinayak temple at Prabhadevi was working on using technology to ensure people with symptoms are not allowed inside and other steps for health protocols.