MUMBAI: Cyclone Nisarga made landfall further south from Mumbai than expected on Wednesday afternoon, sparing the city the worst but bringing moderate rain and strong winds that affected flights, trains and power supply in the distant suburbs, and felled dozens of trees. Light to moderate rain is forecast for Thursday.
Two people were killed in Raigad district, which bore the brunt of the cyclone— Amar Jawalekar (16) from Shrivardhan in a wall collapse and Dashrath Waghmare (58) after an electric pole toppled on him in Alibaug. Two persons were also killed in wall collapses in Pune district. Crops, 'kuccha' homes and electricity poles were destroyed in Alibaug, Shrivardhan, Uran and Murud as the cyclone crossed into the state accompanied by winds gusting at 125kmph.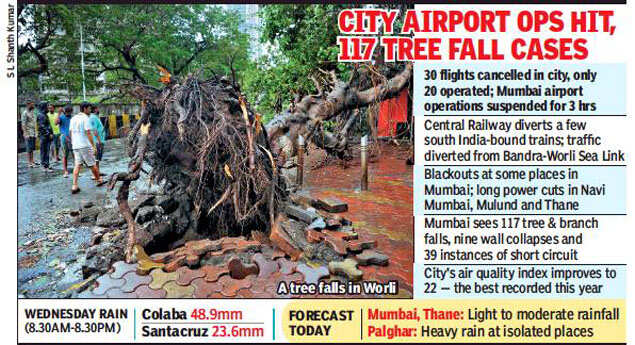 Nisarga, which intensified into a severe storm around 7am on Wednesday, took a northeast tilt in its journey up the coast and made landfall north of Murud-Janjira town, about 85km south of Mumbai, said IMD officials. This was a further 38km south of Alibaug, the expected landfall zone, and the increased distance with Mumbai spared the city.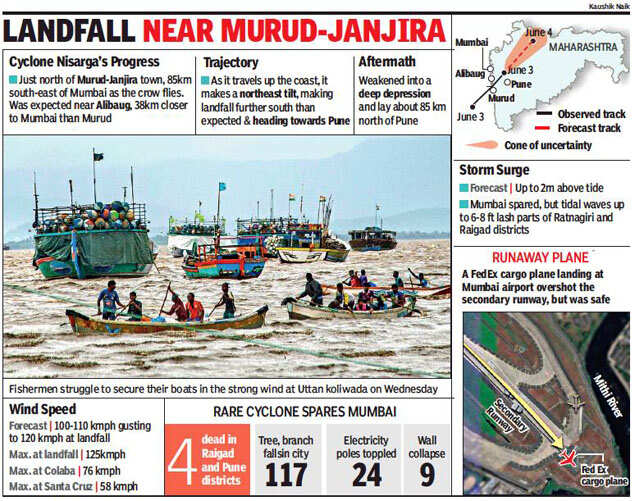 However, the cyclone was now on a track that took it close to Pune and Ahmednagar, bringing intense rain and strong winds.
Raigad district collector Nidhi Choudhari said, "The cyclone has damaged cashew, mangoes and betel nut crop." Raigad SP Anil Paraskar said, "Shrivardhan taluka is cut off owing to massive tree falls and uprooting of electrical poles."
In Mumbai, where a red alert had been sounded and thousands evacuated from the shores and low-lying areas, the wind speed was not as intense as expected. According to IMD, the maximum recorded at Colaba was 76kmph and 22kmph at Santa Cruz. Fortunately, no serious storm surge was also recorded.
Private forecasting agency Skymet Weather Services confirmed Mumbai had escaped the fury of the cyclone. "In case of Mumbai, we were expecting wind speeds to touch 100-110kmph, but with the storm having gone further south than Alibaug, the maximum wind speed witnessed was 50-55kmph. For Mumbai, it was like the usual monsoon rains and by evening, the intensity of the cyclone had started reducing," said Mahesh Palawat, VP, meteorology and climate change.
Scientist Shubhangi Bhute from IMD said by Wednesday evening, the storm had travelled northeast towards Madhya Maharashtra and headed for MP. It had lost intensity, turned into a deep depression and lay centred 85 km north of Pune late on Wednesday.
K S Hosalikar, deputy director-general (western region), IMD, said: "The landfall occurred around noon and at that time, the eye of the cyclone was near Alibaug where the wind speed reported was 125kmph." The IMD had forecast landfall between Harihareshwar in Raigad, about 200km south of Mumbai, and Daman, around 200km to the north of Maharashtra on Wednesday, but expected it near Alibaug. It took place north of Harihareshwar, but 38km south of Alibaug.
"One can definitely see how the impact for Mumbai was less than expected and more so because the cyclone continued to struggle as it could not build up its intensity. It started to weaken before landfall and its eye was also seen to be shrinking. Still, this is a big lesson for Mumbai because had the cyclone moved northwards, it would have affected the city badly," said Akshay Deoras, an independent meteorologist who is a PhD student at the Department of Meteorology, University of Reading, in UK.
(With inputs from Pune and Clara Lewis in Mumbai)