NEW DELHI: With domestic flights slated to resume from May 25, a team of over 500 employees will be called into action every few minutes at Indira Gandhi International Airport to disinfect items like chairs, tiles and counters on account of passengers touching them.
Initially, only T3 will be operational with all domestic carriers flying their aircraft from there. Flyers may have to arrive at the airport much earlier than usual to safely go through all security procedures keeping in mind social distancing norms.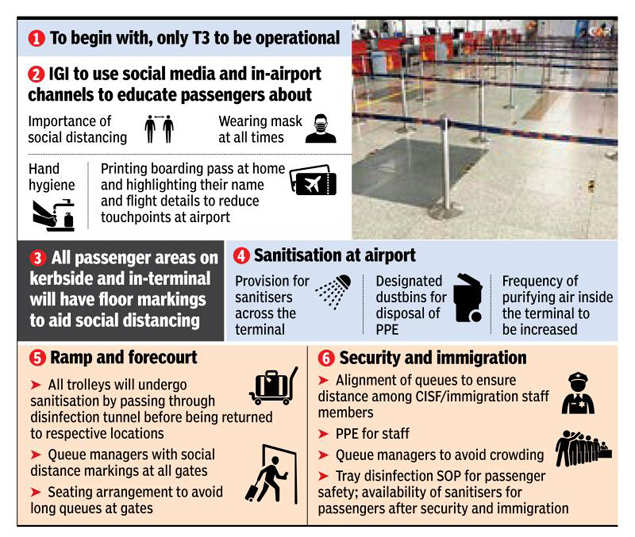 Delhi International Airport Limited said masks will be a must and social distancing indicators have been installed at each step reminding people to maintain the gap. Frisking may take longer with CISF likely to try out contactless operations.
A DIAL spokesperson said, "To make social distancing more effective, DIAL has planned to put signage at various places. For instance, coloured tape has been placed at various points and markers have been positioned on alternate chairs pointing towards which seats need to be avoided." These arrangements are in addition to the standard operating procedures issued by ministry of civil aviation.
UV machines were installed at IGI last week to disinfect the premises. "We have installed new machines that will disinfect baggage and other equipment automatically. While sanitisers will be available for passengers, a team of 500 professionals will be constantly disinfecting items manually," said the DIAL spokesperson.
This will be in addition to queue managers at kerb side (city side), check-in halls, security areas and boarding gates. Additional seating arrangements will be made near the check-in counters, security areas and near immigration. DIAL has suggested that flyers check-in from home to avoid long queues.
"To avoid contact and crowding at the counters, passengers will be encouraged to check-in at home or use self-service kiosks, self bag tag, etc," said the operator. Anyone who doesn't pass through the screening process will be taken to a separate isolation facility and the authorities concerned will be informed.