NEW DELHI: The surge in Covid-19 infections in the city continues. A day after recording a high of 792 cases, the number of infections crossed 1,000 in a single day, with 13 deaths also being reported on Thursday.
Delhi government said 1,024 persons tested positive for Covid-19 in the state in the last 24 hours, taking the total number of cases to 16,281. Delhi became the third state after
Times View
That any relaxation of curbs would be accompanied by a surge in infections was only to be expected. But both the central and state governments must continue to open up the economy and push for a return to normalcy – even if it's a 'new normal' – while rapidly and robustly fortifying their public health infrastructure to deal with a rising number of cases. With tens of millions of jobs already lost and businesses in dire straits, there can be no backtracking. While every effort must be made to control deaths, we need to accept that there is no option but to "live with the virus". It is a hard choice to make, but it is the only choice we are left with.
Maharashtra and Gujarat to report over 1,000 coronavirus infections in a day.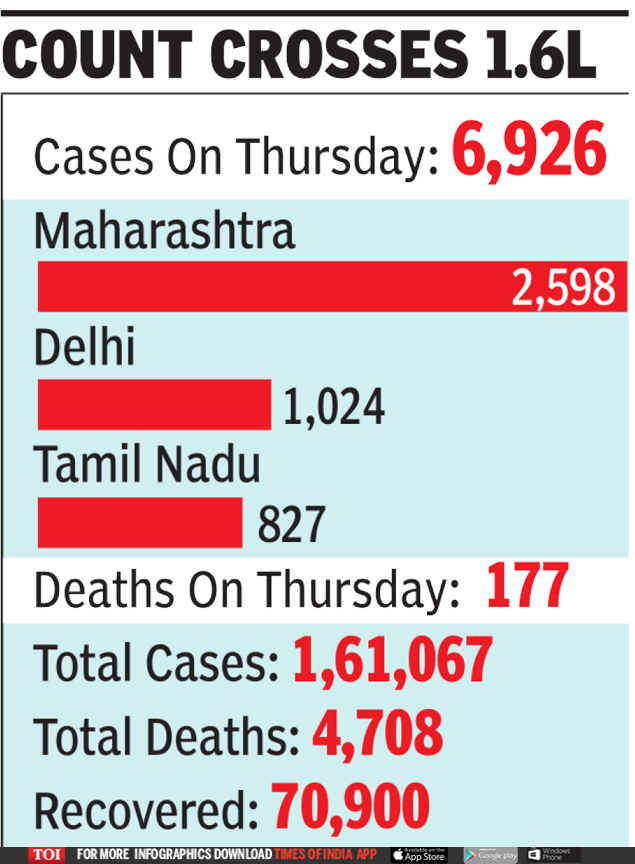 Meanwhile, another AIIMS employee who had symptoms of Covid-19 succumbed to the illness on Thursday. He worked in the endocrinology department. Earlier, a mess worker working on contract at the hospital had died of the coronavirus infection.
Most deaths in elderly with comorbidities, says official
The capital's death toll has risen to 316, with 13 more Covid-19 fatalities being confirmed on Thursday. After Maharashtra (59,546) and Tamil Nadu (19,372), Delhi has the highest number of Covid-19 cases in the country. State health authorities said the death toll may shoot up in the coming days as certain hospitals have sent death summaries in a bunch and these are being examined.
"Most of the deaths are occurring in the elderly, especially those with comorbidities," said an official. He added in many cases patients took too long to go to hospital, due to which their condition aggravated. "If someone has Covid-19 and he or she complaints about breathing difficulty, the person should be immediately rushed to hospital or any other institutional facility," said a doctor.
As per government data, 2,196 Covid-19 patients are admitted to hospitals. Of these, 197 require ICU support and 31 others are on ventilators. Around 4,227 people are on home isolation.
Healthcare workers are among the worst affected by the crisis. On Wednesday, a source said, a doctor in the anatomy department at Safdarjung Hospital tested positive. "The department hasn't been closed yet. The other doctors in the department have been asked to continue working," a source said.