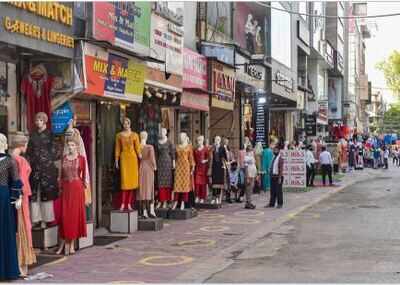 As the Central and state governments allow phase-wise relaxation in curbs to get the life up and running again following over two months of lockdown to prevent the spread of Covid-19, we bring you the latest updates from your city.
Gurugram to check passes again as Khattar cites Delhi's border sealing
Anxious commuters on both sides of the Delhi-Haryana border, already struggling for clarity on passes, may be staring at yet another week of confusion and vehicle pileups, with daily directives from governments on sealing, de-sealing and re-sealing leaving them little time to catch up with the last one.
Odd-even goes, but markets deserted
With the government lifting the odd-even restrictions, almost all shops in markets across the city opened their shutters on Tuesday. However, there was a mixed response by customers. While there was some semblance of normalcy in South Extension and Lajpat Nagar, Chandni Chowk and Sarojini Nagar remained deserted.
Sealing borders: 4.5 lakh suggestions in
Over 4.5 lakh people have already responded to chief minister Arvind Kejriwal's request for public opinion on keeping the Delhi borders sealed and reserving the hospitals in the capital only for Delhiites. The chief minister made the request on Monday.