NEW DELHI: The
Covid-19 crisis
and pressure on
hospitals
has hit economically weaker section patients the hardest. This has worsened the plight of those suffering from other serious illnesses.
Nagina Sharma, a 51-year-old man from Bihar, was rushed to Lok Nayak Hospital on March 12 after he suffered a rupture in a
blood vessel
in the brain, an emergency condition that is fatal in about 50% of the cases. He was lucky to survive, but still needed
immediate surgery
to repair the ruptured vessel.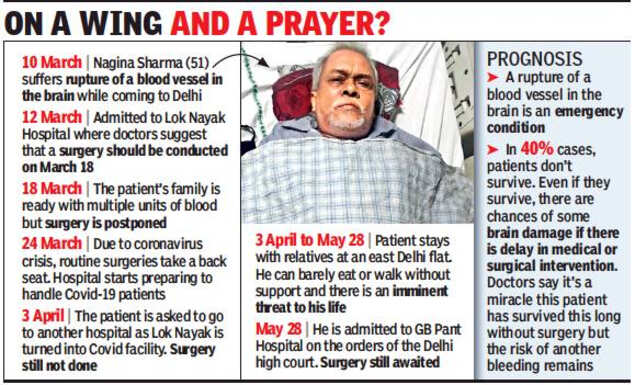 Though the doctors at Lok Nayak said they would operate on March 18, for some reason the surgery couldn't be conducted.
"We kept waiting, but on March 24 we were told that due to the Covid-19 crisis surgeries were being put on hold. The doctors advised us to go to GB Pant or RML hospitals. I tried at both places, but failed to get my father admitted there," Roshan Kumar, the patient's 22-year-old son, told TOI . Even as the Sharma family was waiting for another chance, on April 4 Lok Nayak and GB Pant were designated as Covid-19 hospitals.
A day before, the patient had been discharged from the hospital. "My father couldn't eat properly or walk without support. He was crying inconsolably. I didn't want to take him to Bihar in this situation, so we decided to stay back at a relative's place in east Delhi and wait for relief," Kumar said.
A family friend said they approached government officials for admitting the patient in another state-run hospital or getting him operated under EWS category in a private facility, but to no avail.
It finally took a petition in Delhi high court by lawyers Shweta Sand and Brijesh Pandey for Sharma to get a shot at treatment. The plea filed earlier this month sought directions to Lok Nayak Hospital to conduct the surgery immediately. It also requested that if the surgery was done in a private hospital, then the cost should be waived off because the patient, a helper in a cloth shop, couldn't afford it.
During the hearing, Delhi government told the court that the patient had been referred to Sir Ganga Ram, but the hospital had postponed the surgery. The government then offered to get the surgery done at GB Pant Hospital, adding that it had been taken off the list of Covid-designated facilities. The patient agreed to the offer and 78 days after suffering the emergency condition, he was admitted to GB Pant on May 28.
The hospital, however, said the surgery would involve using equipment costing Rs 1.5-2 lakh. Because the patient was not from Delhi, the state couldn't pay for it. The patient was forced to move court again on Thursday and Justice Sangeeta Dhingra Sehgal directed the Delhi health secretary to treat this as a special case and pay for the surgery.
"I hope this ordeal ends and I'm able to return to my village with my father," said Kumar, who was still unsure if his father would be operated upon soon.