NEW DELHI:
Delhi Metro
, which has not been operating for more than two months, seems to be gearing up for resumption of services soon.
According to Delhi Metro sources, the entire staff has been asked to report for duty on Tuesday. "There are over 14,000 staffers on DMRC's rolls and we have all been asked to report for work on Tuesday. We were already on standby and were reporting for duty on a rotational basis. Now, a thorough briefing on how we should operate in the changed circumstances is expected to take place," said a DMRC official who wished to remain anonymous.
Metro ready to roll at 24-hour notice
While buses, cabs and auto-rickshaws were allowed as part of the relaxations during Lockdown 4.0, Metro services were not allowed anywhere in the country. Sources said Delhi Metro is likely to get the nod to resume services before May 31, when the current phase of the lockdown comes to an end.
It is likely that initially only
government employees
and those involved in essential services might be allowed to travel by the Metro as Delhi government had earlier recommended.
Operations
are also likely to be restricted to a few hours during the day.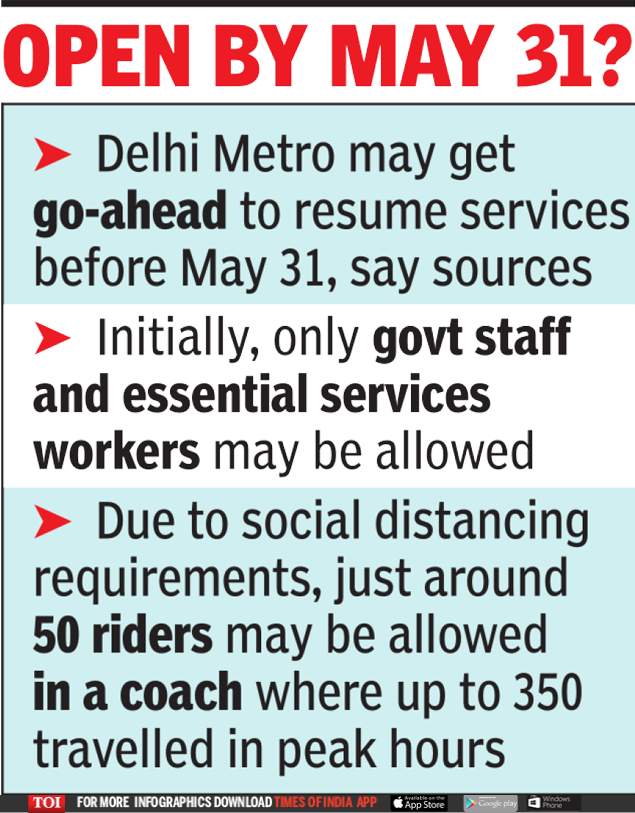 "We were ready to start operations by May 18 but didn't get the nod. Though the system has been kept 'alive' by running trains twice a day on all corridors, it would take three to four days for the entire Metro network to get into operational mode," said the official.
Delhi Metro seems to be preparing to start operations with a notice period of 24 hours. All station premises are being thoroughly sanitised and banners and signage to ensure social distancing are being put up on platforms, in the customer care areas and at the entry-exit points.
The standard operating procedure (SOP) prepared for Metro operations makes it mandatory for passengers to wear face masks, undergo thermal screening and have the Aarogya Setu application on their mobile phones. Only smart cards will be allowed for travel and every alternate seat inside trains will be kept vacant. A limited number of passengers will be allowed to stand with a distance of at least one metre between them.
These measures would mean that the carrying capacity of Delhi Metro will be reduced drastically from 300-350 passengers in a coach, usually seen during peak hours, to less than 50 passengers. A six-coach train that usually ferries 1,800 to 2,100 passengers on each trip will carry about 300.
While many DMRC employees live in different parts of NCR, sources said they won't have a problem in crossing over to Delhi. "Many of the employees have passes which they can show at the border and others may come from Noida, Ghaziabad and Faridabad on our own trains," said the official.
"It is very important that we resume our services because our financial position is not very good. We are thankful that we have been getting our salaries on time despite zero passenger revenue. We are geared up to operate the system in full strength again," said the official.