NEW DELHI:
Delhi Metro
is now ready to resume its services after being shut for 169 days. On Monday, services on Yellow Line (Samyapur Badli-Huda City Centre) linking north Delhi to Gurugram will start at 7am.
Train services will be available in two shifts, from 7am to 11am and 4pm to 8pm. The rest of the corridors will open in a graded manner five days later from September 12. The operation time will expand gradually and services will be restored to the usual 6am to 11pm from Saturday.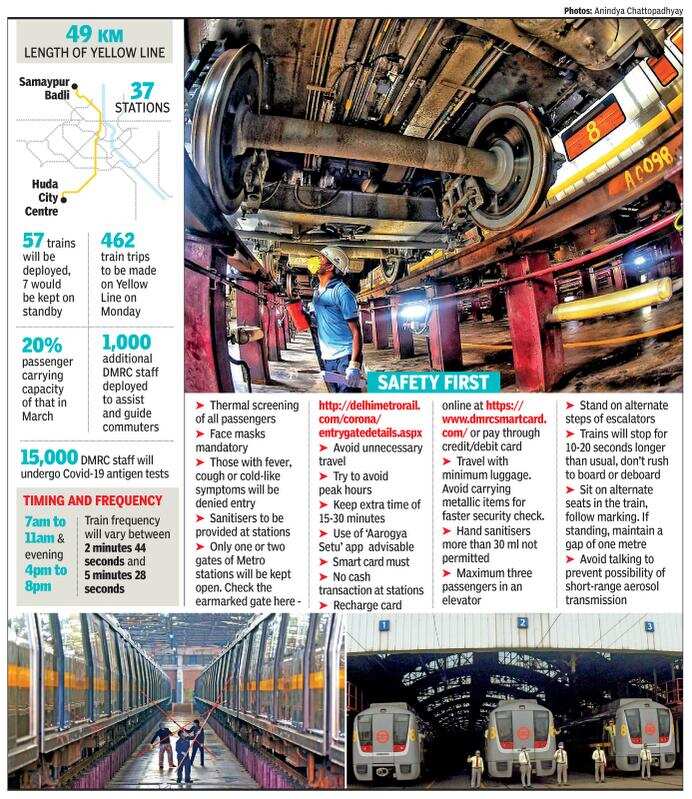 Anuj Dayal, executive director (corporate communications), Delhi Metro Rail Corporation (DMRC) said commuters would need to follow a new normal of social distancing, face mask and hand sanitisation. They would also need to keep 15-30 minutes of extra travelling time at hand.
From the station entrance to frisking points, platforms and trains, social distancing would be stringently maintained. Trains would halt for 10-20 seconds extra at all stations to allow boarding and deboarding with a distance among passengers. After every trip, all trains would be thoroughly sanitised. This would mean your travel time would be higher than earlier.
DMRC has advised commuters to only use earmarked gates. Only a couple of gates at a station would be kept open for segregated entry and exit of passengers to maintain social distancing norms. Details of earmarked gates are available at http://delhimetrorail.com/corona/entrygatedetails.aspx.
"Apart from regular front line staff at the stations, around 1,000 additional employees have been deployed across the network to assist and guide passengers in the wake of the new norms for travelling, which may take some time to settle in," Dayal said.
Making an appeal to passengers to cooperate with the personnel on duty and keep listening to announcements, Dayal said, "All staffers have been advised to manage passengers with a positive and caring attitude in these testing times with the initial focus being on sensitising rather than punitive measures. The new norms are to be followed continuously during the entire journey for their own and everyone else's safety."
DMRC has made an appeal to commuters to avoid travelling unless it is absolutely necessary. "Commuters must try to break the peak by staggering travel timings. They should avoid peak hours, when they are likely to end up missing a train or two. This will also help DMRC in optimum utilisation of train operations. We appeal to commuters to talk less during travel to prevent the possibility of short-range aerosol transmission," Dayal said.
To prevent overcrowding in trains and at stations, DMRC might start empty trains from terminal stations or short loop some of them to manage crowded zones on a particular section. "This dynamic regulation of train movement will be based on the ground situation," said the official.
Smart cards are a must now as tokens won't be issued. "It is contactless, easily rechargeable online and a discount up to 20% is offered on every travel. Tokens will not be available at the stations for now as they need frequent human interface and pose a risk of infection," he said.
People have been advised to travel with minimum luggage and avoid carrying metallic items for faster frisking at entry points. Only pocket-sized hand sanitisers less than 30ml would be allowed from the safety point of view.
"DMRC is also in touch with the authorities to provide around 1,000 civil defence volunteers. Some major stations have been identified where law enforcement agencies, such as local police, will be roped in to monitor law and order in vulnerable areas," said Dayal, adding that a request had been made to the authorities to arrange for antigen testing of around 15,000 employees who would be catering to the public throughout the day.