NEW DELHI: The monsoon session of Delhi Assembly will take place on September 14. Members of the legislative assembly, wearing masks and maintaining physical distancing from other members, will take up legislative business in the one-day session, the second since the outbreak of Covid-19.
A proposal of the principal secretary, law department, on the one-day special session of the assembly was considered by the Delhi cabinet on September 5 and approved for September 14 by the council of ministers on Monday.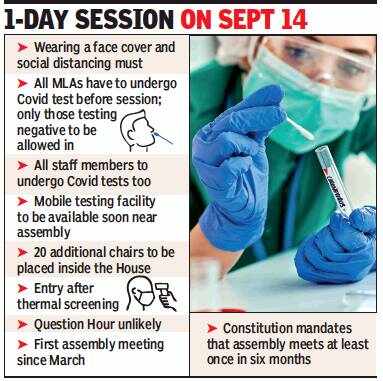 Assembly speaker Ram Niwas Goel said arrangements to reduce Covid infection are being made. "Before the session begins, all MLAs and members of the assembly staff will be tested for the coronavirus. The MLAs will be asked to get tested in the state government dispensaries or health facilities near their homes or come to the assembly for tests. They must submit the test report to the assembly. "The arrangements are being worked. Only those testing negative for Covid-19 will be allowed to attend the assembly session," said Goel.
According to sources, there will be thermal screening facilities available at the entry points, and only those who undergo this screening will be allowed to enter the assembly premises on September 14. Everyone, including the MLAs, will have to mandatorily wear face masks and maintain social distancing.
The 70-member assembly has 62 MLAs belonging to Aam Aadmi Party and 8 to BJP. There are plans to increase the number of chairs installed in the chamber to allow a two-yard distance between each member. Currently, the legislative chamber has 104 chairs and the assembly authorities estimate they may need to add around 20 additional chairs to ensure the required six-feet distance between MLAs.
The health department has been asked to deploy a mobile testing van on the assembly premises to enable the employees to get tested before the beginning of the assembly session.
According to sources, the question hour is likely to be suspended because of its being a one-day session. Only important issues and legislative matters are expected to be taken due to the limited time available.
The assembly has been convened for the second time after the coronavirus reached the city. The first session was convened on March 23, when Delhi government presented the budget for 2020-21. Under constitutional requirements, it is mandatory not to let six months intervene between the last sitting of the previous session and the first sitting of the next.