NEW DELHI: Expect traffic snarls due to waterlogging on Delhi's main arterial roads this year too. Though the number of waterlogging points on these stretches has reduced to 82 from 271 that was listed in 2019, the traffic police still expect jams to occur during the monsoon season later this year.
In a report to the civic bodies, police have sought for corrective measures to be taken on some of these stretches to ensure that vehicle movement does not come to a standstill when it rains.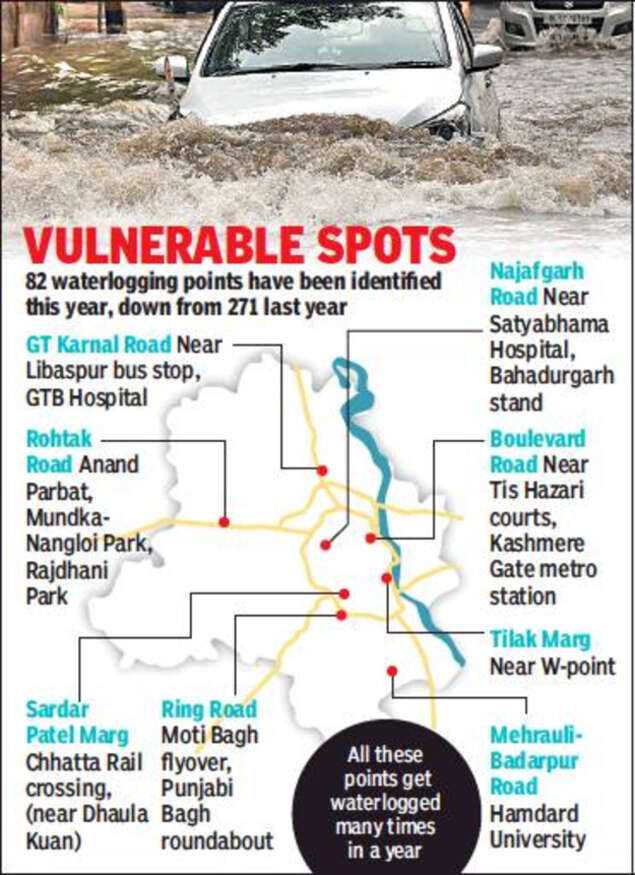 Between May and July last year, police had received more than 250 complaints about traffic snarls on these stretches either due to waterlogging or potholes caused due to accumulation of rainwater in the low-lying areas. Senior traffic officers say that the civic agencies were earlier asked to rectify these faults by March since there was enough time for road surface to dry up in the summer heat. A reminder has now been sent to them again.
Delayed repair work, just ahead of the monsoons, often leads to fresh road surfaces getting damaged. Cops, however, expect the situation to be comparatively better this year since the civic bodies were informed well in advance.
Waterlogging is likely to occur in areas where construction activities are underway. Around Pragati Maidan and Chandni Chowk, the movement of vehicles with heavy construction material has damaged the road surface at different places.
Traffic officers say that for stretches like Rohtak Road near Nangloi, Mundka and Punjabi Bagh that get waterlogged even after light showers, the civic bodies have been asked to take special note of the drainage system that chokes due to various reasons ahead of the monsoon.
Another such stretch is the Mehrauli-Badarpur road near Devli. Despite reconstruction work done on this stretch, water gets accumulated on both sides of the roads which leads to snarls after every rainfall.
In both these places, broken roads and lack of proper drainage facility result in water getting accumulated.
Last year, Delhi government had directed the authorities concerned to take all possible measures to ensure that commuting was not affected due to waterlogging. Some corrective measures were also enforced which reduced the spread of the waterlogging points. However, many problem areas still remain.