NEW DELHI: Though sports complexes have been allowed to open, swimming pools across the city are likely to remain shut all through the summer due to fear of spread of the novel coronavirus.
Globally, the debate continues whether chlorinated water would be able to neutralise the virus. US Center for Disease Control and Prevention has found no evidence of transmission of Covid-19 through pool water and numerous experts have argued that chlorine concentration between 1 and 5 mg/l decontaminates the water and inactivates the virus.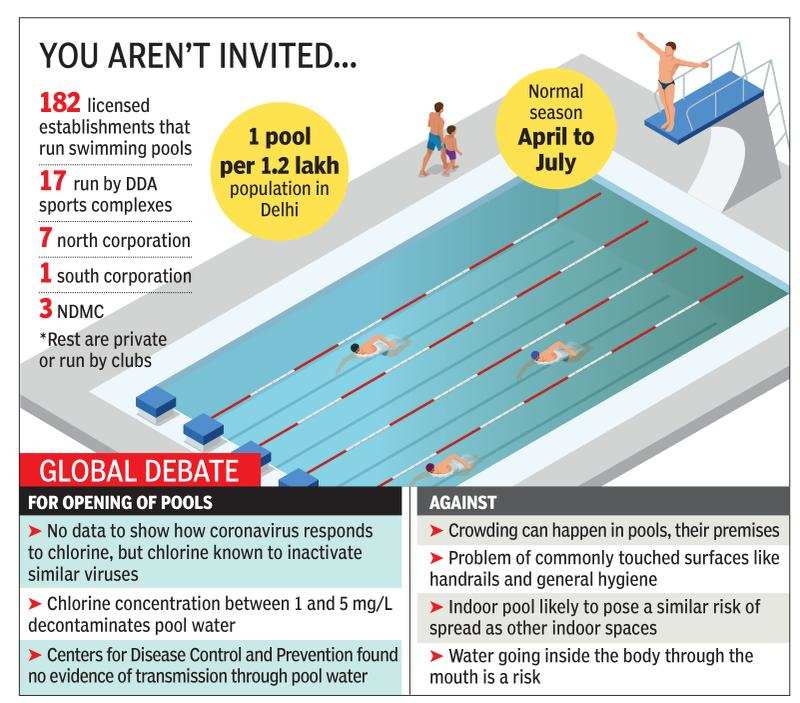 There are 183 establishments that have licences to run swimming pools. Of these, 17 are with DDA and the rest are operated by private clubs and hotels. Many private academies said that under the current circumstances, it was highly unlikely that pools would be permitted to open, but a few have been taking advance bookings.
Pradeep Kumar from Friends Swimming Academy in New Friends Colony said, "We usually start operations in April, but in the current situation it doesn't seem that swimming will be allowed this year. Even if the government opens pools later, social distancing will be hard to achieve."
A private swimming pool chain in Malviya Nagar has been taking advance bookings in anticipation of a relaxation. "We will ensure FINA guidelines on hygiene. We expect pools to open by mid-June. Normally, we have 15-20 people in one shift, but that will be restricted now," said a representative.
With just one pool per 1.2 lakh population, the danger of crowding, risks from commonly touched surfaces like handrails, and general hygiene are imminent. Raj Kumar, a caretaker at Khazan Singh Swimming Academy near Baba Gang Nath Marg, said, "We are also waiting for the government relaxation." Last year, when TOI visited the pool, it found no upper limit to the number of swimmers in one batch.
There are just eight swimming pools run by the municipal corporations at Prashant Vihar, Sector 3 Rohini, U and V Block in Shalimar Bagh, Bindra Park Rajouri Garden and mini-stadium Keshavpuram. While north corporation operates seven, the south civic body has only one. East corporation has no such facility.
New Delhi Municipal Council runs just three pools located at Mandir Marg, Sarojini Nagar and Laxmibai Marg.
A senior corporation official said, "The pools are likely to remain shut as it will be hard to ensure sanitisation and social distancing. Even if the chlorine levels in the water are increased, the surrounding environment can't be controlled."
Dr Harish Gupta, member of National Medical Commission and Delhi Medical Council, said the effect of chlorination on Covid-19 was still under study and it wouldn't be advisable to open pools. "USA has opened beaches, but not pools. Pools are a closed space and it will be difficult to maintain social distancing. Changing rooms and handrails also pose a risk," he added.