NEW DELHI: With negligible demand from hotels and restaurants and restricted entry for retail buyers in the mandi complex, the wholesale prices of tomato and onion have crashed drastically in the last few weeks at the Azadpur Agricultural Produce Auction Committee's auction yard.
While tomato, which sold at Rs 4- 20 per kilo at Azadpur, Asia's biggest vegetable and fruit auction yard, last year, was available for up to Rs 6 per kilo on Friday, onion was selling Rs 2 to 9.5 per kilo. In May 2019, onion sold at up to Rs 13 per kilo in the wholesale market though the prices surged in the following months after inclement weather destroyed the crop.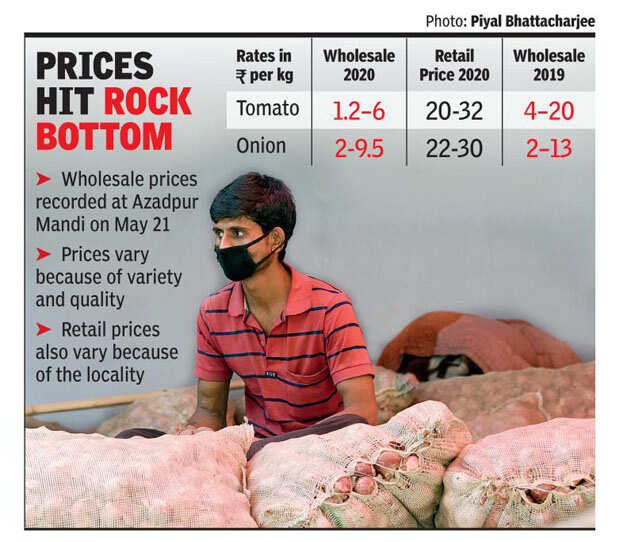 The retail prices of both the kitchen staple, however, remained high with local shopkeepers pocketing higher profit margins.
Both onion and tomato, otherwise, have a high demand in Delhi due to a large number of hotels, restaurants and eating joints.
Due to a good crop in Rajasthan, Madhya Pradesh and Maharashtra, the supply of onion at Azadpur is high. But its export has crashed due to the lockdown, which has also brought down the retail price. "The sale is just about 50-60% of the stock. On Thursday, we got a supply of about 600 tonnes, while the sale was around 350-odd tonnes," onion traders' association secretary Shrikant Mishra said. The restaurant and hotel owners source vegetables directly from Azadpur, he said.
Gautam Bhatia, a vegetable exporter, said the supply of onion to Singapore, Malaysia, Dubai and Sri Lanka has dropped drastically. "There is no demand from these countries. We are only sending a small quantity to Bangladesh by train," he said.
Azadpur not only caters to more than 80% of total demand in Delhi, it also supplies vegetables and fruits to various north Indian states. But "due to restrictions, going to Delhi is difficult during the lockdown. We managed to source onion directly from a farmer in Madhya Pradesh. We will continue the same arrangement even after the lockdown", said Pradeep Kumar Kasana of Damyanti Trading, a wholesaler based in Greater Noida.
For social distancing, APMC has restricted the entry of retailers by issuing a fixed number of tokens daily, affectimg the sale further.