JAIPUR: After decades of fantasy with new technologies and materials, the construction industry is now returning to basics. The brick and mortar are being replaced by more ecofriendly options that are not only affordable but also add to aesthetics value. The trend has also been catching up now in Jaipur and outskirts of the city.
An earth bag home upcoming in posh locality of Mahaveer Nagar has been drawing interest of the neighbours for several weeks. It was the unusual construction material that caught the attention of people.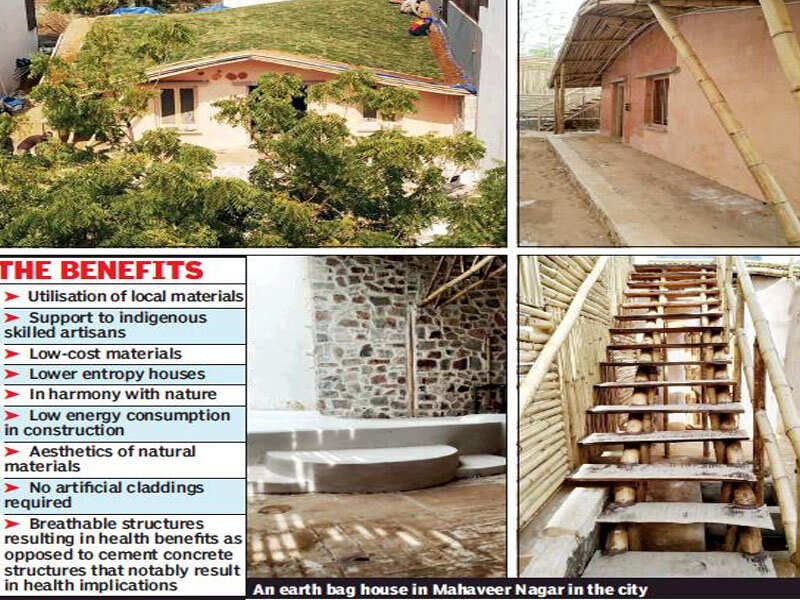 "The eco-friendly structures are breathable and results in health benefits as opposed to cement concrete structures that notably result in health implications. The concrete and brick houses might be good for high rise buildings; however, the mud walls and heritage lime colours are best for healthy living spaces," says Chinmay Pareek, an ecobuilding contractor.
These houses are being built in many other areas of the city, including Sirsi road, Sanganer near airport etc. The construction cost of these houses varies from Rs 1,000 per square feet to 1,500 square feet depending on the luxury products the owner wants to incorporate.
Explaining the concept, Abhishek Sharma, another contractor, said, "Earth bag is a technique that combines the rammed mud brick technique with use of bags. The mud rammed in these bags becomes solid as concrete and these bags once settled make one solid wall. The life of these structures could be easily 200 years," he said.
The concept of natural buildings has been gaining attention world over as effects of global warming and environment change become more and more evident. However, in Rajasthan the process has wide possibilities for implementation and mostly is a question of reviving the heritage.
"The state is well known for its architecture and town planning since centuries. Most of these magnificent palaces and tall Forts were build using locally available materials," said Ravi Jain, who is an architect.
The ecstatic value of these construction techniques mostly appeals to urban residents. Not just that, tourist resorts and farm houses are adopting the techniques of mud, bamboo, dung, lime and stone, many of these are now applying these wherever possible, even if in a single room or outhouse.
"The natural buildings though might not be able to beat brick, steel and mortar in height and space calculations, still they continue to pave way for a more green and sustainable tomorrow for future generations. It connects the people with nature and one feels healthy staying in these houses," said Nagendra Singh, who recently adopted this technique to construct his farmhouse.