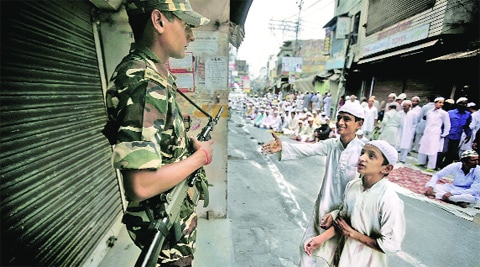 Curfew was relaxed for a few hours in the morning in the old city area in Saharanpur on Tuesday. (Source: Express photo by Praveen Khanna)
For most Muslim families in riot-hit Saharanpur, it was subdued Eid celebrations this year. But for Mohammad Rashid and his family, it was their "best Eid". It was the day their 14-month-old baby, Zubair, was operated upon in a Delhi hospital for a serious lung condition, after which doctors told them he would be able to breathe normally.
But had Rashid not listened to his heart — and the advice of people back home — it would have been a different story.
It was a narrow escape of sorts from Saharanpur for the family. Rashid said he was supposed to come to Delhi on Monday — the date doctors at a government hospital had given him for the surgery — but after violence broke out in the town he decided to get out of the place on Sunday. Barely a couple of hours after he got out with his ailing baby and other family members, the authorities clamped curfew.
"We were scared since we were alone with a very ill baby, and overnight there was so much unrest. For the whole year he had chest infections and wheezing, we knew we could not delay his treatment on any account since we finally got a date for surgery," Rashid told The Indian Express.
While the government hospital where the baby was admitted to postponed his date of surgery, on Tuesday morning he was admitted at another city hospital, and his surgery was performed.
Rashid said there were a lot of people who had collected at the Saharanpur mosque, who advised him to leave for Delhi to keep Monday's appointment at the Delhi government hospital. "The situation was worsening, the police were on the streets. It was good we left when we did, because barely two hours after that curfew was imposed," he said.
Zubair was born with a rare condition called Patent Ductus Arteriosus, which is found in 0.1 per cent people. "The baby's lungs were drowning because two blood vessels that are normally separated by a duct and a bypass tract formed, do not close in this condition. So there is excessive flow of blood in the lungs, which results in flooding of the lungs," said Dr Vishal Kohli, head of the heart institute at BLK hospital in West Delhi, where the baby was operated.
He said this condition made the baby put so much effort into breathing that his growth became stunted. "He was barely seven kg, which is normal for six months of age." The baby had frequent episodes of pneumonia and other chest infections, and if left untreated, doctors said he could have had a heart failure.
Rashid said at the government hospital in Delhi, the surgery date was postponed after some diagnostic tests on Monday. "We had been coming to Delhi to see different doctors for the past four months. When my child's surgery was postponed to after Eid, I grew very restless. The hospital told us after his tests that they would have to discharge him now and he could be operated only after a week," Rashid said.
Worried about the violence and not sure if they could take the baby back to Saharanpur, the couple reached BLK hospital on Monday evening. "We had heard about the hospital from a doctor in Saharanpur, but we never went there since we could not possibly afford a private hospital. I am a daily wage labourer and can barely manage a nominal amount I pay as rent to the mosque where I stay. But thankfully, the cost of the procedure was waived off," Rashid said.
📣 The Indian Express is now on Telegram. Click here to join our channel (@indianexpress) and stay updated with the latest headlines
For all the latest India News, download Indian Express App.