JAIPUR: Former international archer Jayantilal Nanoma passed away early Monday morning in a road accident in Udaipur. The incident took place while he was travelling with a friend in a car from Banswara to his home district Dungarpur. The incident took place on Sunday 9.30 pm.
"Initially he was taken to a government hospital in Sagwara. With no oxygen facility available, Nanoma was referred to a private hospital, located in the same area. From there he was referred to Geetanjali Hospital in Udaipur where he succumbed to injuries at 3:30 am on Monday," said Sagar Chand, SHO Varda Thana. Condition of his friend, who is a physical education teacher is stable, the SHO added. The 34-year-old is survived by his wife and a daughter.
The compound archer from Rajasthan made the state proud winning medals internationally and nationally. Nanoma won silver in both individual and team events in the Asia Cup Grand Prix in Malaysia in 2010. During his career, Nanoma was part of the Indian compound teams which won several medals in Asia Cup GP events held between 2003 and 2010.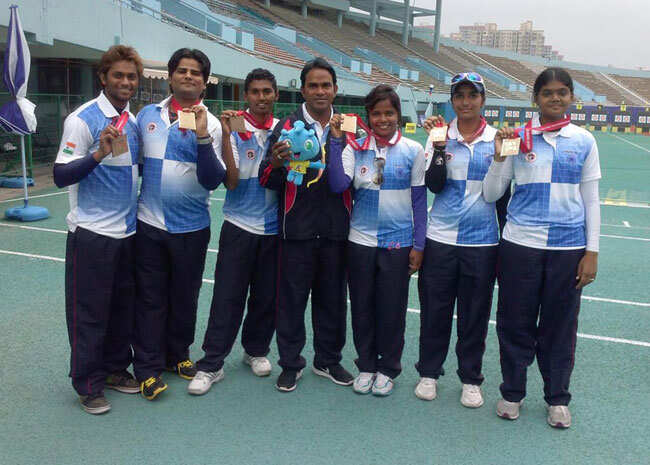 He also served as India coach in 2013 and 2015. Currently serving as district sports officer in Dungarpur, he was a popular figure among his contemporaries and juniors. Condoling the death of the former archer, Rajat Chauhan shared that Nanoma was always there to help everyone around him.
"I have even played against him and despite both of us being competitors, he was always there to help me. We were in fact friends. It was in 2011 during the senior national tournament in Vijaywada that we both were pitted against each other vying for a bronze medal. I won, but he always maintained humility. Later he even coached me during my international assignments," said Chauhan, who met Nanoma for the first time in 2008 at the archery ground in Jaipur.
A recipient of Maharana Pratap and Guru Vashisth awards, he earned immense praise as a coach in 2013 when the Indian team produced an outstanding performance in World Archery Youth Championships in China, winning five medals in the compound archery discipline.
Ravi Sharma, who is among those several archers from Rajasthan for whom Nanoma was a guiding light, termed his coach's death as an irreparable loss. "I started archery in 2011 and since then he has had a great influence on me. No matter in which corner of the world he was, he was always accessible for me. He had a role to play in all my big achievements, be it winning gold (team event) at the Asian Grand Prix in Mongolia in 2013 or silver (individual event) in the National Games held in Kerala in 2015," said the 27-year-old.