NEW DELHI: After two months of the coronavirus-induced lockdown, Indira Gandhi International airport is all set to resume one-third of the domestic flights from Monday. The first flight will take off at 4.30am. There will be initially 190 departures and 190 arrivals from the airport's Terminal-3 daily which are likely to benefit 40,000 passengers.
On Saturday, TOI took a tour inside the terminal to see how the airport experience is set to change for a passenger due to the corona crisis. From the check-in facility to checking-out, DIAL assures that there will be minimum human-tohuman contact. On Saturday, it announced that it was all set to provide a "safe and healthy environment" to passengers flying out of the airport.
With domestic air travel making a comeback from Monday, the flight bookings are in full swing. Officials say they are expecting at least 60% of each flight to be occupied. The airlines will ensure that the safety norms are followed at all hours. Four shops at the airport will sell PPE kits and other necessary safety gears for passengers.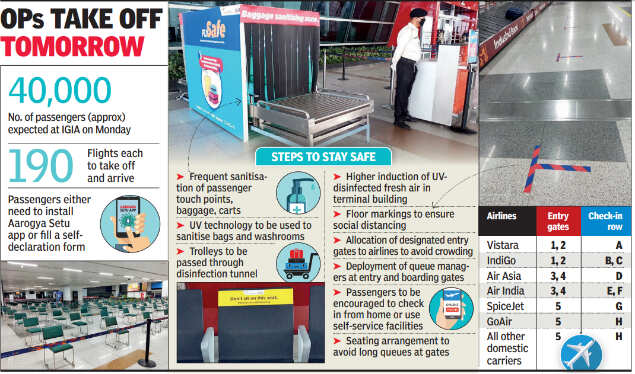 Several measures have been taken, including installation of automatic hand sanitiser at more than 400 spots in the airport, floor markers, allocation of entry gates and check-in islands for departure passengers, to encourage compliance of social distancing norms and minimise human contact at the airport.
"We have implemented several unique initiatives at the airport to ensure passengers' safety without compromising on their comfort and experience. Our teams have worked round-the-clock to sanitise the vast terminal to provide a hygienic condition. DIAL will continue its awareness drive by educating and encouraging passengers to maintain social distancing while at the airport," said Videh Kumar Jaipuriar, CEO, DIAL.
To distribute passenger load in the departure forecourt, the authorities have moved from the current method of allowing entry to passengers from all airlines through all gates to now allocating designated gates to different airlines to enter into the terminal building.
It will be mandatory for a passenger to either download Aarogya Setu application or fill up a self-declaration form that will be available in the forecourt area itself. Only those who are marked 'safe' on the app will be allowed to travel.
Apart from this, provisions have also been made for thermal scanning of passengers. The carpet on which passengers will walk has been sanitised so that the sole of their shoe is disinfected before they enter the main area.
In order to avoid close contact and crowding at the counters, passengers will be encouraged to check in at home or use self-service facilities, such as self check-in facility, self bag tag facility, scan and fly, etc, said an official.
When the international flights also start to operate, officials said, there will be proper alignment of queues to ensure social distancing among CISF/immigration staff members. Queue managers will be deployed. Social distance marking and seating arrangements with social distancing norms have been made before the security check counter to avoid crowding.
Tray disinfection SOP for passenger safety will be maintained and automatic hand sanitiser machines have been kept for passengers to use after security and immigration checks.
After the security check, the passengers will move to security hold area (SHA) where they can go to the food court, lounges and retail shops. Strict and stringent SOP will be maintained for food and beverage shops, lounges, retail shops and all other non-aero areas to ensure safety, health and hygiene, said an airport official.
Passengers will be encouraged to download HOI app, a dedicated AI-enabled app for Delhi and Hyderabad airports, for contactless commerce. It can also be used for contactless food ordering. Apart from this, the passengers can use self-ordering kiosk at the food court to avoid queuing. They can also avail of the unique food delivery service—Food Genie. Digital payment and digital menu will be encouraged.
At the boarding gate, the seating arrangement is made with marking on chairs for non-usage of a few chairs in between. Queue managers will be deployed near boarding and bus gates too.
For arriving passengers, social distance markings have been put up at aerobridges, piers, lifts and travellators. As per the government's directive, a passenger can carry only one piece of each cabin and check-in baggage.
All departure baggage will be disinfected at the ultraviolet light disinfection tunnel developed by DIAL. Similar SOP is being developed for arriving international baggage. Social distance markings have been put up around baggage belts and additional seating arrangements have been made for the waiting passengers.
Social distance markings will also be there in all transport waiting areas and the SOP is being readied for disinfection of cabs before use at the airport. Visitors' entry into the terminal will remain temporarily suspended.
For the safety of passengers and staff, trolleys would be disinfected in the tunnel after each use, the official said. "Air inside the terminal will be among the cleanest. We have systems which replace air inside the terminal every 10 minutes. DIAL will also have facilities to isolate suspected Covid-19 passengers at the airport," added the official.