Written by
Lalmani Verma
| Lucknow |

Updated: August 6, 2014 8:48:05 am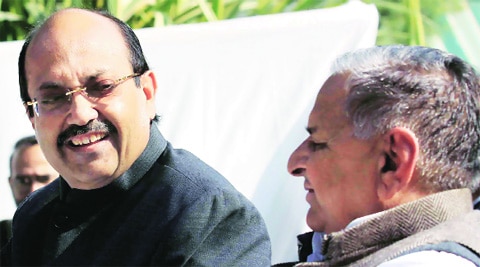 Amar, however, did not get the expected response from Mulayam who avoided any interaction with him. Source: File Photos
Rajya Sabha MP Amar Singh shared the stage with Samajwadi Party president Mulayam Singh Yadav Monday, four years after he was sacked from the SP along with Jaya Prada for anti-party activities. The event was the opening up of a sprawling park named after socialist leader Janeshwar Mishra in Lucknow.
Amar, however, did not get the expected response from Mulayam who avoided any interaction with him.
While Chief Minister Akhilesh Yadav was present at the event, party general secretary Ram Gopal Yadav and Cabinet minister Azam Khan stayed away. Their absence was being attributed to Amar's presence that seems to have caused much heartburn in the party.
Significantly, Mulayam, who had invited Amar to the function, did not mention him in his 25-minute speech even once.
The latter, in his five-minute speech, however, recalled one of his meetings with Janeshwar Mishra and said he had told the veteran social leader that "as per your definition of Samajwadi, I am not a Samajwadi but I am Mulayamwadi".
Amar insisted that no political connotation should be attached to his presence at the event. "My visit is personal and emotional. I have come here on the invitation of Mulayam Singhji."
Amar was not invited to join senior leaders to light the lamp or for unveiling of a plaque for the park.
Earlier, he was welcomed by senior minister Shivpal Singh Yadav who offered him a seat. There was a short conversation between Akhilesh and Amar when the former had arrived. When Mulayam reached the venue, he exchanged greetings with Amar and asked him to be seated.
Cabinet minister Raghuraj Pratap Singh alias Raja Bhaiyya, who was once considered close to Amar, chose not to speak with with.
As the event ended, Amar was the first to leave the venue even as others headed to another tent for lunch.
📣 The Indian Express is now on Telegram. Click here to join our channel (@indianexpress) and stay updated with the latest headlines
For all the latest India News, download Indian Express App.