Busy tackling the pandemic, BMC is months – not weeks – behind schedule on everything from desilting rivers and drains to repairing roads and curbing monsoon-related diseases
While the BMC running behind schedule on its pre-monsoon preparations is hardly shocking news, the Covid-19 pandemic has ensured that the civic body is months, not weeks, behind schedule this year. With rains expected to hit the city this week, preparations for the monsoon were scheduled to be completed by the second week of June at the latest.
However, with a large portion of its resources dedicated to fighting the pandemic, the BMC began portions of its pre-monsoon work in mid-May instead of March, as it usually does. Already two months behind schedule, the preparations took a further hit thanks to a shortage of labourers as tens of thousands of migrant workers fled the city.
Not only is all major pre-monsoon preparation work – desilting nullahs and storm water drains, repairing roads, and curbing monsoon-related illnesses – well behind schedule, infrastructure projects such as the coastal road and metro are also facing huge delays thanks to the shortage of workers.
1 DESILTING OF DRAINS AND RIVERS

BMC SAYS WORK IS 80% DONE BUT PICTURES SHOW OTHERWISE

Mirror finds major and minor nullahs at various places, including Marol, Kurla, Santucruz and Andheri, are in a sorry state
Mumbai has 280 km of major nullahs and 438 km of minor nullahs. It also has four rivers – Mithi, Oshiwara, Dahisar and Poisar – which need major desilting and cleaning before every monsoon. Additional municipal commissioner P Velarusu claimed that desilting work began on April 4 this year and that it was now about 80% complete. But Mirror found major and minor nullahs at various places, including Marol, Kurla, Santucruz and Andheri were filthy.
A civic official, who did not wish to be named, told Mirror that work done on the major nullahs was unsatisfactory. He said, "Not even 60 per cent of the Mithi River work is complete. Because of the lockdown work started late. When there was manpower there was no machinery and vice-versa. So it led to a mess. The labourers who go down into the drains to clean them are mostly migrant workers. Some left the city and others got infected."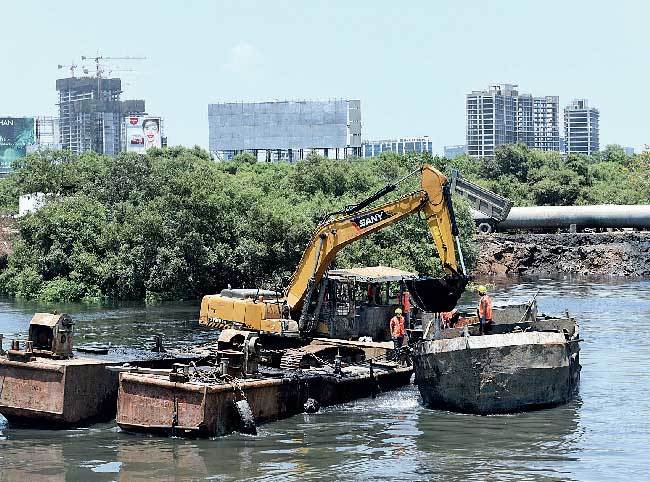 Kurla corporator Chitra Sangle said that at 90 Feet Road in Tilak Nagar, Saka Naka, two nullahs that pass below a road have not been cleaned at all this year. "We expect flooding at Andheri-Ghatkopar Link Road," he added. "Every year silt is removed with a machine but this year it didn't happen. There is a contractor, who does what he can, but there is no machine being used this year. Water from five adjoining wards comes to my ward (number 158). So cleaning the nullah in my ward alone won't help because nullahs in ward 157 and ward 159 haven't been cleaned. These nullahs should be cleaned on a priority basis. Despite repeated complaints no work has been."
Advocate Godfrey Pimenta, who has been monitoring nullah cleaning in Marol, said, "The ground reality on cleaning of nullahs and storm water drains is that at many places like Marol, Sahar and Kurla, not even 10% of desilting work has been done. As such this monsoon season we may experience heavy flooding."
BMC officials said more than 250 flooding spots have been identified this year and 324 dewatering pumps will be installed. They said the civic body is paying special attention to desilting storm water drains in areas that are known to be flood-prone, such as Dadar, Sion, Parel and Hindmata. For Gandhi Market at King's Circle, which was flooded during Cyclone Nisarga, the BMC has appointed an expert to minimize flooding during the monsoon.
2 COMBATING DISEASE

COVID-19 TAKES PRECEDENCE OVER MALARIA, DENGUE AND LEPTOSPIROSIS

Busy with sanitisation work, pest control dept began monsoon preparations on May 18, two months behind schedule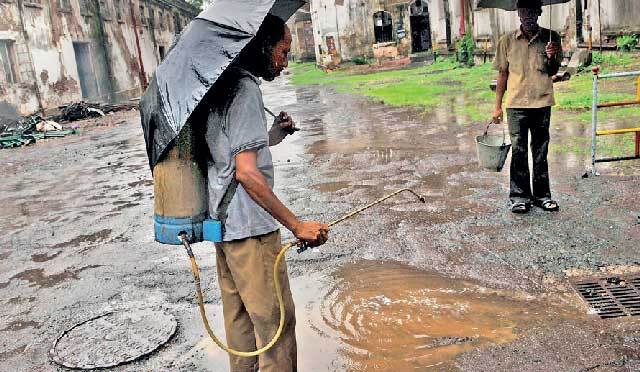 The BMC's pest control and insecticide department, which normally spends the pre-monsoon months reducing the number of disease-carrying mosquitoes in the city, has had its hands full during the pandemic, sanitising and disinfecting rooms and buildings to ensure they are coronavirus-free. This meant that pre-monsoon pest control, which would have otherwise begun in the first week of March, started on May 18 this year.
For malaria control, the BMC claims it has so far inspected 17,113 premises and found that of the 1.12 lakh water containers, including tanks, 1,783 were breeding sites for the anopheles stephensi mosquito. On dengue, which is spread through the aedes aegypti mosquito, the BMC said it has inspected more than 40 lakh households. It found 4.3 lakh water containers, of which 7,788 had signs of aedes aegypti larvae despite it being the pre-monsoon season.
Rajan Naringrekar, insecticide officer, claimed the department had everything planned out this year and didn't even face a shortage of workers. "We have 725 workers for the monsoon. It was all planned properly but corona put a spanner in the works," he said.
"On malaria, prior to the monsoon, we focus on building construction sites. We have checked all building construction sites and they are under weekly anti-larval treatment. In case of leptospirosis [which spreads through rats] we focus on spots that have a history of flooding such as Gandhi market, Hindmata and Parel. Our labourers find rat burrows and fill them up with soil. We also use rat poison," said Naringrekar. He added that on dengue and malaria, the BMC focuses its efforts on housing societies and slums that saw the highest number of cases of both diseases last year.
Naringrekar said BMC officials engaged in mosquito control often face resistance from residents and are not let into many buildings and slums to conduct checks. "Many times residents don't allow us to go to the terrace. But water drums on terraces are one of the major breeding areas for mosquitos," he said.
3 ROAD REPAIRS

LACK OF WORKERS, MATERIALS HALTED MAJOR REPAIRS DURING LOCKDOWN

Quarries and mixing plants from where BMC acquired materials were shut from March to mid-May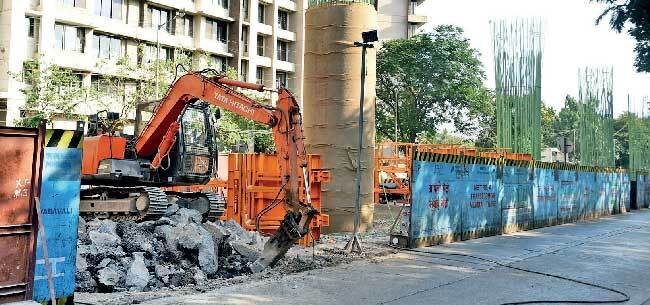 Major road repairs all but came to a halt during the lockdown as quarries and asphalt plants in Raigad, Palghar and Thane districts, from where the BMC sources materials to build and repair roads, were shut at the start of the lockdown and only reopened in mid-May. The situation was exacerbated by the shortage of labourers.
P Velarusu, additional municipal commissioner, said of the 609 road works taken up since October 2019, 193 have been completed. He added that 406 others had been brought to a "safe stage" [meaning they won't be ruined by rains] and work on 10 roads was in progress. He said the BMC would continue to manufacture and supply cold mix to fill potholes in every ward during the monsoon and that contractors could also be available to fix potholes and bad patches.
"In the initial days of the lockdown, all plants in Raigad and Palghar district were shut. BMC officials co-ordinated with district collectors and government agencies to restart the quarries and ensure a smooth supply of materials such as cement, sand, metal and bitumen," said Velarusu.
4 INFRASTRUCTURE PROJECTS

LACK OF MATERIALS,WORKERS' EXODUS HIT COASTAL ROAD AND METRO HARD

Chief engineer on the Coastal Road project says work moving at snail's pace; MMRDA says it has only 10% of the skilled workers it needs for Metro work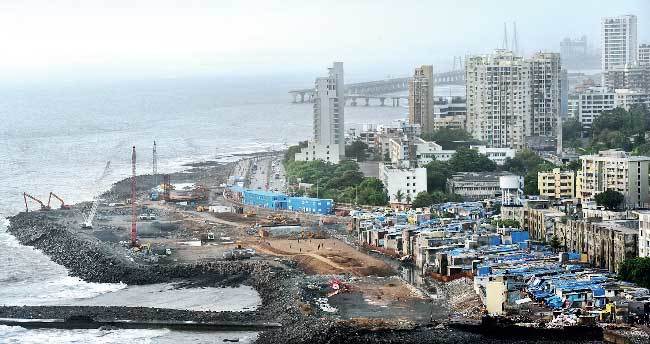 COASTAL ROAD


Vijay Nigot, chief engineer on the Coastal Road project, said work was moving at a snail's pace. "We have completed 9.5 percent of the total work. A lot of pre-monsoon work will be completed in the next 10 to 15 days," he said. The Rs 8,500-crore Coastal Road project, which had faced delays last year after the Bombay High Court quashed the Coastal Regulation Zone clearances granted for the southern part of the project, resumed after the Supreme Court stayed the high court's order in December. However, a few months later, the lockdown ensured that delays continued to symie the project.
Nigot said that apart from legal troubles, the inability to source materials for construction and land reclamation, and the severe shortage of labourers has also hampered the project. "In May, 100 of our labourers returned home. Another 100 have left since then and we are making do with just 300 labourers. We do expect some labourers to come back," he said. He added that about a month ago they received machine parts from China and that tunneling work would start in October. "Work will go on despite the lockdown," he said.

In Photos: Mumbai takes on familiar hues as the city 'begins again'
Traffic jams, crowds back on streets
Mumbai begins again
Traffic jams, crowds back on streets
The scramble to get home
Traffic jams, crowds back on streets
Unlocked and unleashed
The hustle-bustle is back
Taking on familiar hues
Taking on familiar hues
Unlocked and unleashed
Mumbai begins again
Traffic jams, crowds back on streets
The scramble to get home
Taking on familiar hues
Traffic jams, crowds back on streets
Taking on familiar hues
MUMBAI METRO

MMRDA spokesperson BG Pawar said the agency is facing a severe shortage of skilled workers for the Metro project. "We have 90 per cent vacancy where these labourers are concerned. That is a big issue. The good news is that few of our vendors such as L&T and Tata have been able to get several labourers back to their camps to start work this week. Many labourers who left the city in March Holi have returned and this is encouraging," he said. He added that work was in progress at about 190 locations despite the shortage. "The project has not halted," he said.