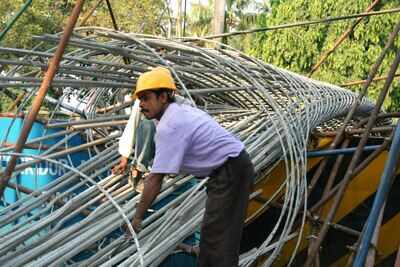 Govt departments will evaluate and grade contractors on their performance (Representative image)
NEW DELHI: Now all government departments dealing with infrastructure will prepare performance appraisal report (PAR) of all contractors engaged by them. Performance of contractors who have executed works between April 2016 and March 2020 having original cost of each project of at least Rs 10 crore will be assessed in the first phase.
The assessment will be based on five criteria – speedy execution, quality of work, tendency towards raising disputes, financial soundness and attitude towards man, machine and material – and there will be 20 marks for each parameter.
The process started almost six months after Prime Minister Narendra Modi had directed all infrastructure departments to compile list of contractors, habitual litigants or claimants, under-performers and beneficiaries of arbitration. The directions were issued in November during a meeting chaired by PM had which was attended by of heads of infrastructure ministries.
TOI on November 13 had first reported how PM had even observed that officials of government departments could be party to the growing number of litigations and claims by contractors in the recent years.
The railway ministry has set the June 30 deadline to complete the contractors' performance appraisal of projects executed in the past four years. Contractors scoring 75 marks and more will be rated as 'A' category, 50 plus score will get 'B' and those with less than 50 score will be categorized as 'C'. The appraisal reports of contractors for each project will be written by officials concerned after physical completion of work.
Though soon after the meeting in November PMO had given the task to Niti Aayog to prepare the list of contractors and assess their performance, sources said it was felt that each ministry or the department concerned was better placed to carry out this exercise since they have readily available data with them.
Some of the official told TOI that while the exercise is good, it is more important is to take a decision whether the performance of contractors will be a consideration when fresh tenders are bid out. "We must also keep in mind that in several cases contractors could not meet the deadlines because of delay in providing encumbrance-free land parcels and other statutory clearance. The government agencies concerned are responsible in such cases. So, we cannot pass all the blame on contractors," said an official who didn't wish to be named.
FacebookTwitterLinkedinMail