Varanasi |

March 28, 2014 4:12:39 am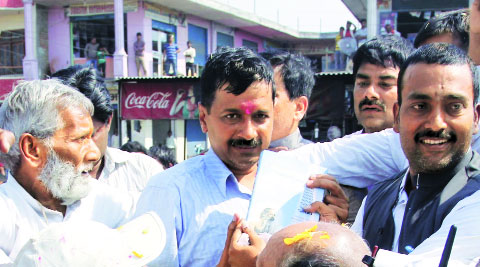 Arvind Kejriwal in Varanasi. Ravi Prakash
With political space virtually left vacant by Congress and Samajwadi Party, the Aam Aadmi Party (AAP) appears to have found a ready audience among the minority community in Varanasi.
The AAP has a two-pronged approach for reaching out to the community: Promising them employment and better civic amenities and underlining BJP's prime ministerial candidate Narendra Modi's alleged role in Gujarat communal riots.
However, likely appearance of mafia don Mukhtar Ansari (the runner-up to BJP's Murli Manohar Joshi by just over 17,000 votes in 2009) on the scene may throw up new equations, as things progress.
On March 25, after he announced to challenge Modi from Varanasi, AAP convenor Arvind Kejriwal met Sheher Mufti Maulana Abdul Nomani. One of Nomani's demands was that AAP should work towards 'maintaining peace and harmony in the city'.
In Varanasi, AAP raised slogans like "bol rahi hai Ganga mai, bachne na paaye dangaaee (Mother Ganga says don't allow the rioter to escape)" and "Kabira aur Raidas pukaare, dangaaee ko door bhaga re' (Sufi saints Kabir and Raidas want the rioter to be ousted).
AAP's UP in-charge Sanjay Singh, who was in Allahabad, said: "We are getting support from a major chunk of the minority community. One of the major reasons for that is the hate politics, which Modi indulges in. We are also working on the issues of the weavers (Muslims make a sizeable section of weavers' community ). In fact, our election campaign there is based on three things — sewer, weaver and river. Plus, we are also getting support from the Valmiki Samaj."
Waiting outside Raj Narain Smarak Park in Benia Bagh for the rally to begin on March 25, a weaver, Nomani said: "There was a time when Mulayam Singh Yadav had earned the sobriquet of Maulana Mulayam. But the SP's record in last couple of years has been so bad that the entire community is highly disappointed. There is no reason why we should look towards Congress also. Therefore, the community is looking upto Kejriwal. It is due to his own personality and the issues he raises."
On the other hand, mafia don Mukhtar Ansari, who has floated the Qaumi Ekta Dal, hopes to better the 2009 performance on account of likely polarisation due to Modi's presence. A formal announcement about Ansari, currently lodged in Agra jail, contesting from Varanasi is expected soon. "It shall be done within a couple of days. Afzal Ansari (president of QED) is holding a meeting in this regard tonight," said Ansari's close aide, Shiv Kumar Rai.
📣 The Indian Express is now on Telegram. Click here to join our channel (@indianexpress) and stay updated with the latest headlines
For all the latest India News, download Indian Express App.