Sri Lanka's 1996 World Cup-winning coach
Dav Whatmore
opened up about the nervy moments he had to endure leading up to the toss of the semifinal against hosts India. Chasing down targets with their aggressive batting was Sri Lanka's go-to strategy in 1996 but Whatmore knew it could backfire on that steamy day in Calcutta.
"Sri Lanka always felt comfortable chasing. This particular game was nothing different. It was a really hot day at Eden Gardens. During the pre-match warm-up, I just had a look at the wicket. It was a beautiful looking straw-coloured wicket. The outfield looked hard, fast and pristine. Then I pressed the wicket like I always do and it felt hard. But when I just pushed my thumbnail into the surface, it just crumbled. I did that on five or six different spots on the wicket and it was all the same. I thought 'Jeez, this may not last 100 overs. We may have to rethink our strategy of chasing'. I stood up and saw Duleep Mendis (manager) and Arjuna (Ranatunga, the captain) walking towards me. I told them this pitch may not last and they were like 'don't worry whatever they make, we will chase'," said Whatmore during an Instagram live chat with former Sri Lankan batsman Russel Arnold.
"I was really worried until the toss. When the microphone went to (Mohammad) Azharuddinm, I was so glad that okay if we have to bat second because we lost the toss, so be it. And when they said we will bowl first, I just looked up in the heavens and just gave a little cross, this was what I wanted," said Whatmore.
Though India got the big wickets of Sanath Jayasuriya and Romesh Kaluwitharana in the first over itself, Sri Lanka managed to put 251 on the board before choking India on a pitch that was deteriorating by the minute. "We were 0/2 (1/2). This was the condition I had foreshadowed to happen in every game. Now it was the time to show that we had the firepower in our middle-order to overcome the disaster. Fortunately for us, (Anil) Kumble was given a few overs early. He would have been difficult to handle later in the innings. Aravinda (De Silva) just used the pace, (Roshan) Mahanama came up and got a fifty and we had a good score on the board. The pitch deteriorated to a point that it was very difficult to play the spinners in the second half. It was a vicious spin by Sanath. After Sachin Tendulkar got out, it was difficult for the remaining Indian batsmen to have any impact," remembered Whatmore of the match that was awarded to Sri Lanka after the Eden Gardens crowd raised a ruckus when India were reduced to 120/8.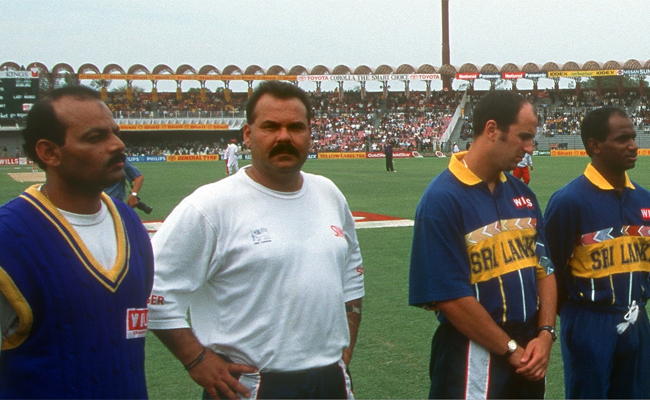 (Getty Images)


Once the semi-final was won, the pressure was off for the Sri Lankans. "I was still almost oblivious to all the hype. It was just a series of games and one other game for us to win, I thought. The hardest game is always the semi-final. We prevailed in that one. We were playing against a team like Australia who gave you a beating six weeks ago (In Australia). Then you have a place to get even and what better place than a World Cup final. And the players responded admirably well to that challenge. Aravinda was brilliant in the final (3/42 & 107*)," said Whatmore who went on to coach Bangladesh, Pakistan, Zimbabwe at the international level, Kolkata Knight Riders in the IPL and Kerala in the Indian domestic circuit. He is set to take over as Baroda coach in the next domestic season.
Sri Lanka were trendsetters in the 1990s with two pinch-hitting openers, there was a specific reason for promoting the wicketkeeper Kaluwitharana to partner Jayasuriya. "Kaluwitharana was such a sweet hitter of the ball, He was very good on both frontfoot and backfoot and square of the wicket too. Invariably his free-flowing game would mean he would hit in the air and when he batted at No, 6, No.7, he would get caught in the deep with the fielders back. When Duleep Mendis mentioned how it would be if we open with Kalu, instantly a positive bell was ringing in my head. In the first 15 overs, only two players were allowed outside the 30-yard circle. There were plenty of vacant spaces for him to it. He got a couple of the Man-of the Matches (In the tri-series in Australia before the 1996 World Cup) opening and it got better and better," said Whatmore.
Whatmore did not conceal his admiration for Ranatunga, the captain who rallied his troops to a memorable triumph. "Arjuna was a little more democratic than people from the outside thought about him. He gave others a space to express their opinions in the team meetings. It was just that some of the young players were a bit scared to open up. He was a very shrewd leader and he always backed his players. In fact, as a batsman, he could have scored a lot more runs had he converted his starts into bigger scores and centuries. Also, he was deceptively quick between the wickets," said Whatmore.