MUMBAI: All eyes were on
Kangana Ranaut
as her flight landed at Mumbai airport on Wednesday afternoon from Chandigarh. She was returning to the city for the first time following her controversial remarks against Mumbai police and a war of words with the Shiv Sena.
Outside, she was greeted by Sainiks waving placards and shouting slogans. Apart from angry tweets, the actor unleashed a video message in Hindi addressed to the CM that raised eyebrows. "Uddhav Thackeray, what do you think you have achieved by conniving with the film mafia and demolishing my house? Today my house has broken, tomorrow your arrogance will break," it said.
तुमने जो किया अच्छा किया 🙂#DeathOfDemocracy https://t.co/TBZiYytSEw

— Kangana Ranaut (@KanganaTeam) 1599646246000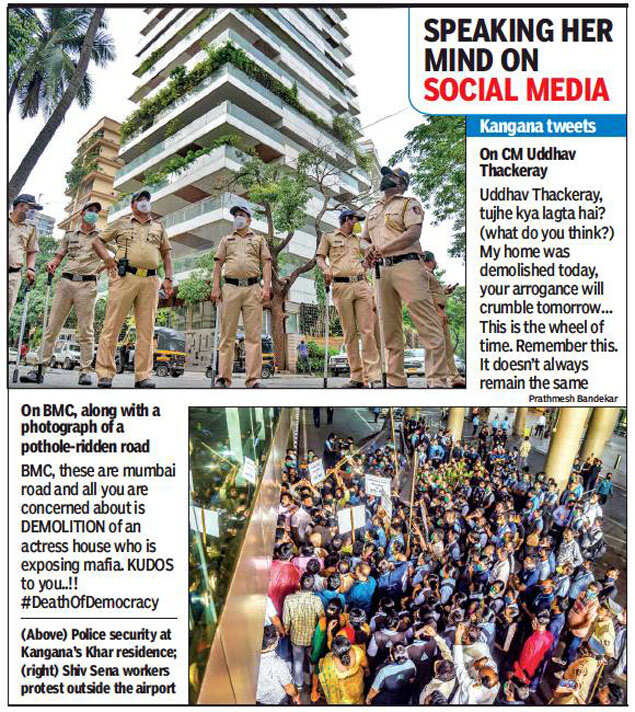 Kangana keeps the pot boiling, says BMC never sent her a notice
Kangana Ranaut landed in Mumbai on Wednesday, bearing an arsenal of tweets against chief minister Uddhav Thackeray and BMC which kept circulating in social media through the day. She also posted videos of the demolition of unauthorised extensions in her bungalow, quoted the Bombay high court stay order in her favour, and questioned the silence of "fancy feminists, Bullywood activists, candle march groups and award vapsi gang" which have "no comments on what High Court said about open murder of law and order in Maharashtra". "Well done, thank you for proving me right always, you all deserve the treatment you get from me," she tweeted.
"Such is the wheel of life. Remember time does not remain the same forever. In fact, I feel you have obliged me. I am now feeling what Kashmiri Pandits must have felt. I will make a film on Ayodhya as well as on Kashmir," she went on.
At the airport, when she landed, Shiv Sena activists, most of them ground staff of the airport authority, had organised a protest, sources said. With saffron and even black flags, displaying placards with a message condemning the actress over her remarks, they shouted slogans against her. There were also a few from the Republican Party of India (A) and Karni Sena who had gathered in support of her.
Union minister Ramdas Athavale had declared that his RPI workers would provide protection to Kangana during her stay in Mumbai. The sloganeering went on for 40-45 minutes. However, all activists dispersed after they realised she had left the airport through another exit amid police protection.
Earlier, images of her at Chandigarh airport surrounded by a phalanx of security guards drew howls of dismay and cheers in equal measure on social media. Many lamented "wastage of taxpayer money" while others drew comparisons with similar favours done by previous dispensations. The actor was granted Yplus security by the Union home ministry in the light of the present controversy.
As for her tweets, they continued intermittently through the day. She said no due process was followed by the BMC in its actions and that the demolitions at her bungalow had damaged her furniture. "Paid sources of Maha government are spreading fake info, BMC never sent any notice to me until yesterday, in fact I got all the documents cleared myself from BMC for renovations. @mybmc at least have the courage to stand by your audacity. Why lie now," she said.
She claimed a notice against another property owned by her "was not just to me but to entire building… this is not my flat issue but a building issue which builder needs to deal with… this building belongs to Sharad Pawar we bought the flat from his partner so he is answerable for this not me…"
BJP supporters rallied in her favour, some calling her a "lioness" that subdued the state,others offering to back her in her fight.