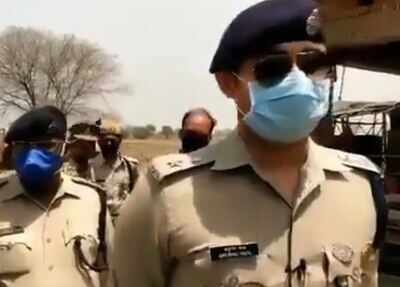 KANPUR: Two persons were killed while one was injured over monetary and mining area dispute between two groups at Nibrri village at Yamuna Kharka Ghat in Rajpur area under the limits of Satti police station in Kanpur Dehat district on Thursday.
A fight broke out after one group attacked other over monetary and mining area dispute at Kharka Ghat in Yamuna riverbed in Rajpur area.
Following the heated argument, both the groups attacked each other with lathis, sticks and sharp-edged weapons and also resorted to indiscriminate firing killing two persons and leaving one other injured.
The police on being informed rushed to the spot and admitted the injured man to hospital and shifted the bodies of the deceased to mortuary for postmortem examination. A heavy deployment has been made at the clash site to avoid any kind of backlash further. Further investigations are underway.
The police identified the deceased as Gyanendra Singh Chauhan (42), a resident of Jamu village in Bidhnoo area of Kanpur nagar and Gulrez (40) of Satti village in Kanpur Dehat. The injured identified as Deepak Singh, who had sustained wounds caused by lathi and sticks is undergoing treatment at the district hospital.
According to superintendent of police Kanpur Dehat Anurag Vatsa, five people have been arrested in connection with the incident.
"The incident occurred at Nibrri village in Yamuna Kharka Ghat in Rajpur area under the limits of Satti police station. During preliminary investigations, it came to fore that one Manoj Chauhan and Saida Khan had together taken sand mines on lease but later fell apart due to monetary and mining area dispute. Both Gyanendra and Gulrez sustained multiple gun shot wounds. While Gyanendra died at the spot, Gulrez who was rushed to the district hospital was pronounced dead on arrival by the doctors."
Five persons have been arrested in this connection so far, ASP Anup Kumar said, adding, we are ascertaining role of others whose names surfaced during initial probe. They are at large and a search for them is on.
Following the firing, tension prevailed in the area and senior police officers including IG Range Mohit Agarwal, rushed to the spot.