MUMBAI: The Union health ministry on Thursday noted that in certain large states symptomatic patients who tested negative by
rapid antigen tests
were not being followed up with an RT-PCR, the gold standard test. It said that failure to do so could lead to states missing potential patients who could spread the virus among their contacts.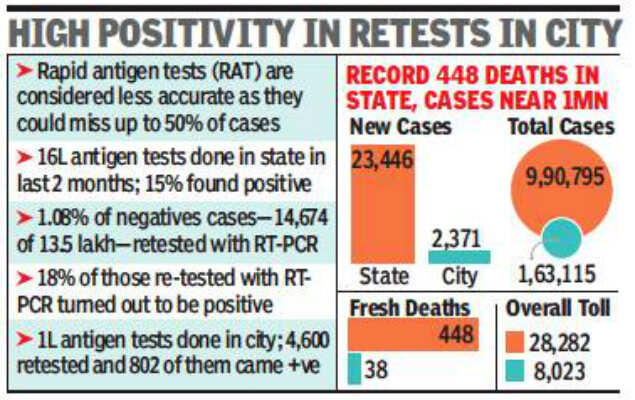 Data accessed by TOI revealed that in Maharashtra only 1.1% of the antigen negative cases were followed up with RT-PCR. The state has performed over 16 lakh antigen tests over the last two months of which 2,47,606 have come positive, indicating a positivity rate of 15%. However, the data pointed out that only 14,674 people were retested with RT-PCR.
Pune tops state in rapid antigen tests, but only 800 cases retested
The data on RAT retesting indicates that of the 13.52 lakh who tested negative only these few thousands had symptoms and qualified for a follow up RT-PCR test. More importantly, of the 14,674 who were retested, around 18% (2,652) turned out to be positive.
A senior expert said the high positivity rate in those who got retested only showed that more positive cases could be found if the retesting numbers were increased. In Delhi, reportedly less than 1% of over 7.5lakh people tested through rapid antigen were retested, prompting the Union government to reiterate that it was mandatory to retest symptomatic antigen negative cases. Dr Shubhash Salunkhe, a member of the state's technical committee, said a decision on deployment of antigen test was also being taken at the district level. "It's possible that some are worried that their positive case number could grow," he said. A senior medical professor, however, said getting an RT-PCR test was still difficult in several remote districts.
Among districts in Maharashtra, Pune has done the highest number of antigen tests (2.34 lakh) and found 58,563 positive. However, less than 800 patients were retested of which 157 came positive. Thane, which is the second highest user of antigen tests in the state, has carried out 1.99 lakh antigen tests of which 26,891 came positive. The district has retested around 5,107 and found 813 positives in them. Similarly, Aurangabad that has carried out over 1.31 lakh tests and found 10,925 positive has done retesting in a handful.
Antigen tests are considered less accurate as they could miss up to 50% of positive cases, although a person testing positive is a true positive. A faster turnaround time and ease of use has majorly accelerated its use across the country.
The Indian Council of Medical Research guidelines state that all symptomatic patients with fever, cough and breathlessness should be retested after a negative antigen. It also says asymptomatic negative cases of rapid antigen who develop symptoms within 2-3 days of being tested negative should also be checked with RT-PCR. The health ministry has also asked for teams to be formed to analyse antigen test details daily and ensure there are no delays in retesting. Maharashtra has completed nearly five million tests and the daily testing numbers are now around 90,000 of which over 60% is done using RT-PCR.