MUMBAI: A SpiceJet step ladder crashed with force into the wing of an IndiGo A320 aircraft parked at Mumbai airport during the strong wind and torrential rain that suddenly hit the city early on Saturday morning.
The accident occurred in the apron area of Mumbai airport around 7.30am. A photograph of the wreck shows the weather guard roof of the step ladder sliced in by the leading edge of the A320 wing. The strong wind appears to have sent the step ladder reversing into the wing in high speed. After the winds abated, the split roof of the step ladder was left biting into the wing of the A320.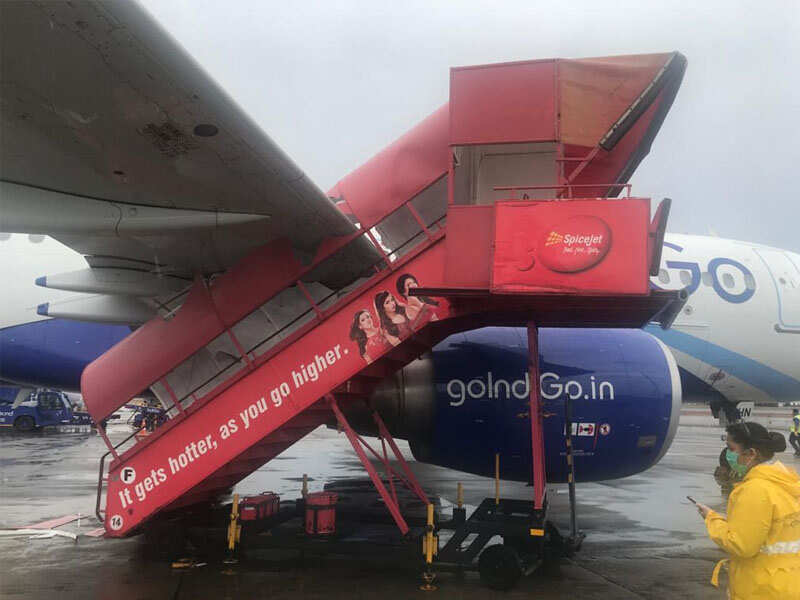 The incident happened on Saturday morning
The aircraft engine's cowling appears to be damaged too though the ladder cut itself into the portion of wing between the engine and the winglet.
"From the picture it looks like the step ladder is more damaged than the wing. The wing might just need an aluminium high speed tape. But if the ladder has lacerated the wing, then there would be substantial repairs," said a source.
SpiceJet in a statement said: "On June 6, a SpiceJet step ladder was parked on stand C87 (where one of our aircraft VT-SLA was parked) at the Mumbai airport. On stand C86, an Indigo aircraft was parked. Both aircraft were not in service at that time. In morning around 7.30am, sudden strong winds picked up. There was no prior weather warning or advisory. SpiceJet step ladder, which was well secured and with chocks in place, was moved backwards and hit the Indigo aircraft on right wing."
A statement from the Mumbai airport and IndiGo is awaited.
Around 6.30am, the city was suddenly besieged by a tempestuous wind and torrential downpour. Aviation weather report for that hour showed a strong westerly wind whipping at 53 kmph, with gusts going up to 72 kmph. Compare that to a cyclonic storm, which has wind speed ranging from 63 kmph to 88 mph.