Amid prevalent chaos and uncertainty over access to the essential services and commodities during the lockdown, we bring you the latest updates from Mumbai.
Update at 4.50pm:
The
BMC
told the Bombay high court on Friday that it had started 13 mobile clinics in the metropolis, and had also started making door to door medical visits to screen people for novel coronavirus symptoms. (PTI)
Update at 4.20pm:
Doctors check the temperature of the Dharavi residents in Mumbai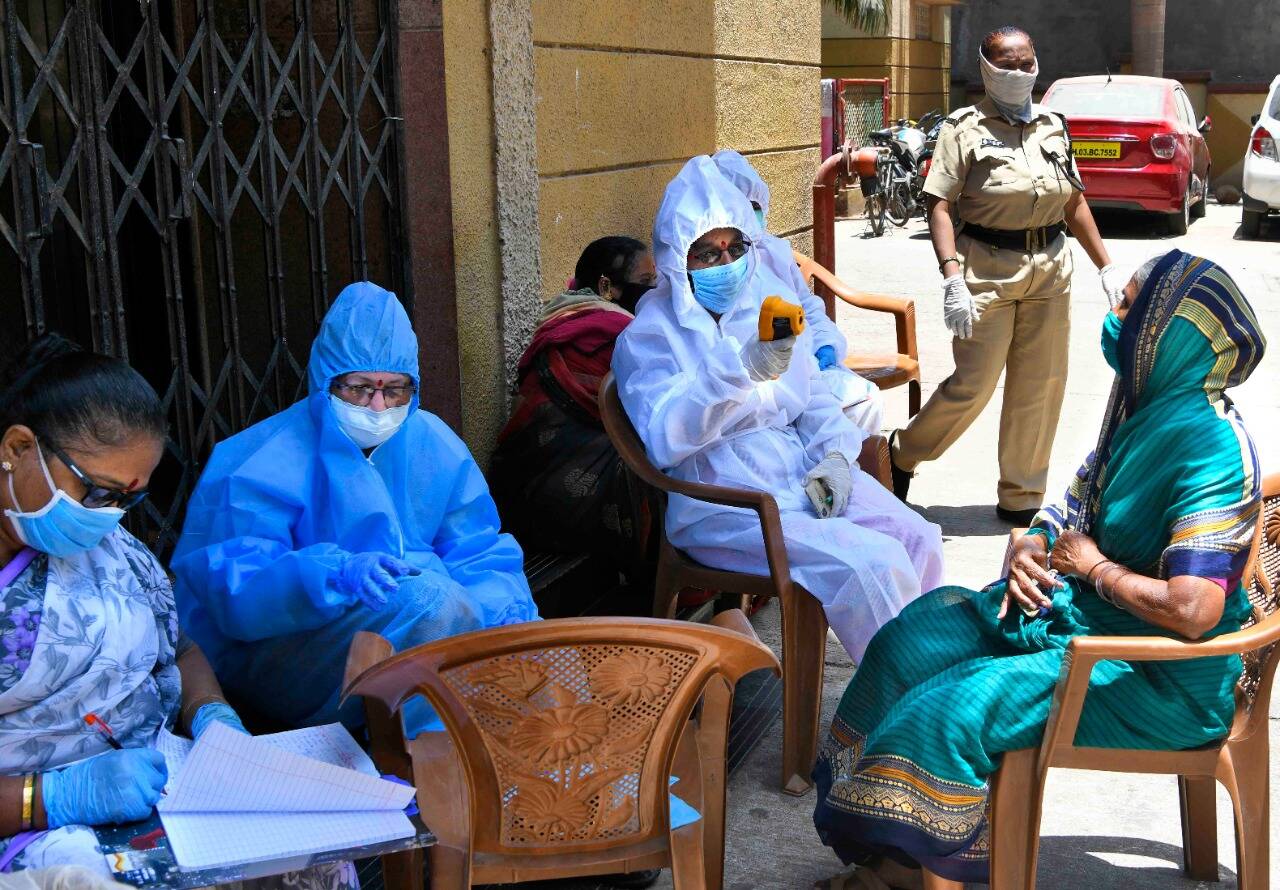 Update at 3.25pm: The Bombay high court on Friday said the Mumbai civic corporation has power to designate any cemetery or burial ground for disposal of bodies of Covid-19 victims and noted there was no scientific study to show that the novel coronavirus spreads through cadavers. (PTI)
* PTI update at 2.30pm: Maharashtra Agriculture Minister Dada Bhuse said the Maha Vikas Aghadi government was planning a scheme for farmers, which will be named after late Shiv Sena supremo Bal Thackeray.
* PTI update at 1.30pm: BJP leader Devendra Fadnavis on Friday led the opposition party's state-wide protest against the "failure" of the Shiv Sena-headed Maha Vikas Aghadi (MVA) government to curb the coronavirus spread in Maharashtra.
* Update at 12.40pm: Bombay high court rejects petition challenging burial of Covid-19 positive bodies at Bandra Kabrastans. Petition rejected since there is no scientific data in WHO or govt of India guidelines of such bodies spreading the disease through burial.
* PTI update at 12.00pm: Maharashtra Home Minister Anil Deshmukh praised a woman police personnel for performing the last rites of four deceased persons, whose bodies were unclaimed bodies during the COVID-19 lockdown in Mumbai.
* ANI update at 11.00am: Number of Covid-19 cases rises to 1666 in Maharashtra Police. Number of active cases & deaths stands at 1177 & 16, respectively in the force: Maharashtra Police
* PTI update at 10.40am: With 23 more persons testing positive for coronavirus, the tally in Nashik district of Maharashtra has gone up to 890, officials said on Friday. These included 11 from Malegaon town and eight from Nashik city. The remaining four patients are from outside the district but they are undergoing treatment here, according to an official statement issued by the local administration.
* Update at 9.30am: Death toll due to Covid-19 rises to 3,583; cases climb to 1,18,447 in India: Union health ministry
*The BMC has decided to increase the stipend of resident doctors by Rs 10,000 and sanctioned a six-day quarantine break after a nine-day shift. It has also increased the stipend amount for medical interns to Rs 50,000 for their contribution during the Covid-19 pandemic. Interns at civic-run medical colleges currently get Rs 6,000 as stipend.
*Over the past few days, nearly 200 nurses have left Mumbai and Pune for their Kerala homes. Their reasons for leaving range from homesickness and completion of contracts to their employers' insensitivity when they tested positive for Covid-19.
*A 60-year-old man, who had tested positive for Covid-19, collapsed in the middle of the road in Thane's Wagle Estate allegedly waiting for an ambulance late on Tuesday.
*Countering criticism on the ban against use of taxis and autos, an RTO officer said on Thursday that BEST buses, private cars and two-wheelers were available to those in essential duties. "They should strictly refrain from going by autos, taxis, private tourist vehicles or aggregator cabs," he warned.
*After waiting for over 16 hours for the Kalyan-Dombivli Municipal Corporation to send an ambulance to take him hospital, a Covid-19 patient from Dombivli (in picture) walked 3km to reach the civic-run Shastri Nagar Hospital, where he was made to wait another three hours before doctors referred him to Tata Amantra Health Covid-19 Centre in Bhiwandi. The patient is employed as a ward boy at Wadia hospital in Parel.
*As Covid-19 patients are increasing, plans are afoot to create more jumbo care centres here, like MMRDA grounds at Bandra-Kurla Complex (BKC) and NESCO in Goregaon. BMC plans another 1,000-bed centre at Mehboob Studios in Bandra, and has put up beds at St Xavier's College and JJ School of Applied Arts, while some rooms and the auditorium of DG Ruparel College in Matunga have also been taken over.
*Maharashtra added 2,345 new Covid-19 cases on Thursday, its second highest addition for a day, breaching the 40,000 mark to reach 41,642 cases. The doubling time taken to reach this grim milestone was 12 days; on May 9, Maharashtra had 20,228 cases.