Amid prevalent chaos and uncertainty over access to the essential services and commodities during the lockdown, we bring you the latest updates from Mumbai.
*
Stung by the BJP's criticism of his crisis-management skills, chief minister Uddhav Thackeray said the spread of the coronavirus in Maharashtra was far less alarming than the projections made by ministerial teams from Delhi and remained so despite little or no help from the Central government.
* Those above 65, below 10, can't get on ST buses
MSRTC has barred pregnant women and citizens above 65 years and below 10 years from travelling on ST buses, that began operating in certain districts on Friday.
In two days, the buses plying in 31 non-red zones ferried more than 20,000 commuters in over 4,000 trips, said sources.
* On Eid today, 30,000 cops to enforce social distancing rules
About 30,000 personnel from CISF, CAF, Crime branch, Special branch and traffic police will be present all over the city. With over 69 containment zones in the city, the police are likely to use drone cameras to monitor sensitive areas to ensure that social distancing norms are in place.
Maulanas have announced that Eid namaz (prayers) be offered at home. Head of Jamiatul Ulema-E-Hind, Maulana Arshad Madni, has asked Muslims to offer two rakats (units) namaz at their homes in groups of four adult males.
* Update at 7.36am:
Passengers arrive at Mumbai's Chhatrapati Shivaji International airport as domestic flight operations resume. Maharashtra government has allowed 25 takeoffs and 25 landings every day from Mumbai.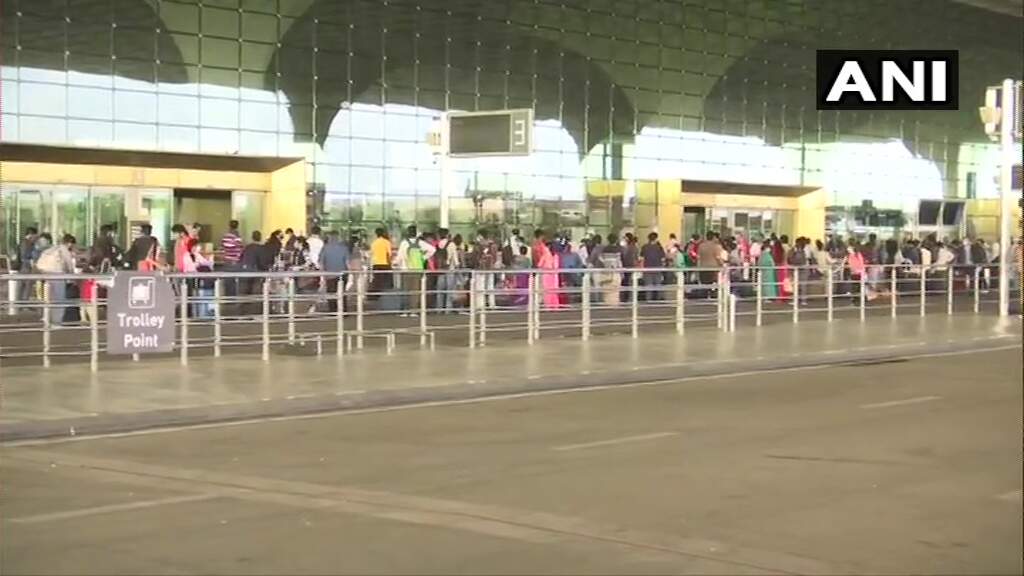 * At least six doctors from the suburbs and one from south Mumbai have been served showcause notices for prescribing the Covid-19 test to asymptomatic patients or for asking them to get tested without conducting a physical examination. The BMC has also served notices to around 20 doctors from KWest ward for failing to open their clinics. The actions have infuriated the medical community, which has called for better dialogue, saying the civic body's lack of trust on a doctor's clinical acumen could weaken the fight against Covid-19.
* A Jogeshwari resident spent 12 hours looking for an ICU bed for his mother. In another case, a patient died within an hour of being moved to a Covid care facility, unable to get a bed in a Ghatkopar hospital after waiting for nine hours.
* Maharashtra writes to Kerala for 150 doctors and nurses
As cases continue to surge, the state government has written to Kerala health minister KK Shailaja requesting 50 specialist doctors and 100 nurses to manage the 600-bed Covid care centre coming up at Mahalaxmi Race Course, reports Sumitra Deb Roy. Authorities have so far said there was no staff shortage in Covid hospitals. DMER head Dr TP Lahane, who wrote the letter, said discussions have also been held with Doctors Without Borders for healthcare workers.
* Indecision within Maharashtra's ruling coalition over resuming commercial flights from Mumbai airport finally lifted on Sunday, hours after chief minister Uddhav Thackeray expressed his reluctance to allow travellers to fly into the city.
Thackeray said he had conveyed to aviation minister Hardeep Puri that, in keeping with Maharashtra's lockdown restrictions, flights would be allowed to land only for medical emergencies or in exceptional cases such as to bring in stranded students. An hour after his address, NCP spokesperson and cabinet minister Nawab Malik announced an unexpected about-turn. "I have spoken to the chief secretary and our decision is that 25 flights to and from Mumbai airport will start from Monday,'' Malik said.
Chief secretary Ajoy Mehta too confirmed the go-ahead. "The details of the flights are being worked out by the concerned departments and airline firms," Mehta told TOI.