MUMBAI: The city police on Sunday issued directives asking people not to venture beyond 2km from home unless going to the office or for essentials. All trips—whether for shopping or exercising or visiting salons—should be made within a 2km radius from home, failing which action will be initiated, the police said. Nakabandis were conducted throughout the city on Sunday and over 6,600 vehicles impounded.
Confused citizens stormed social media, angrily asking how they could be expected to make last-minute arrangements. They also asked how the police intend to implement the rule. For example, how can the police tell if someone lies while citing a reason for being out? The police have advised that motorists carry any ID proof with their residential address on it; those out for medical reasons can carry medical documents.
Watch: Don't move out beyond 2km of home, urges DCP (Operations) Pranaya Ashok, Mumbai Police#CautionYesPanicNo… https://t.co/LqrVVPrFTI

— TOI Mumbai (@TOIMumbai) 1593339685000
TimesView
The 2km-rule is arbitrary. We're all for rational and reasonable precautionary measures; for instance, the wearing of masks in public spaces should be mandatory, and strictly enforced. Every effort should also be made to observe social distancing – and to that end, controlling the size of public gatherings is in public interest. But to limit movement beyond a radius of 2km makes little sense. Will the police stop a person from visiting her aged parents who live, say, 4km away, and impound her car? Even assuming a family decides, after three months of lockdown, to go for a drive, should they be penalized for it? This has been a stressful time for everyone, and its adverse impact on mental health has been widely documented. So why not let people feel a little happy so long as they act responsibly? All this new rule will do is encourage harassment.
"Our observation has been that people have not been taking the lockdown seriously. People living in the distant suburbs have been found strolling on Marine Drive. Beaches are packed with visitors, many without masks. The threat of Covid is still here. The objective behind these directives is to ensure that people do not needlessly step out and endanger themselves," a senior IPS officer said. As per the guidelines, vehicles found plying outside the 2km radial limit without a valid reason would be impounded. Also, shops and markets not following social distancing norms would be closed. Wearing masks outdoors continues to be mandatory.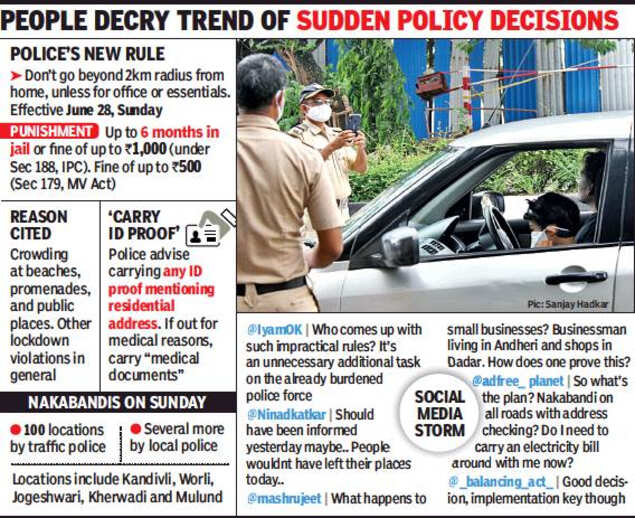 The sudden move came under heavy criticism from concerned citizens. "It would help if there was greater clarity and consistency in the directives issued by all authorities—the government, the police, the BMC—and if policy changes weren't done at a moment's notice. At least 48 hours' notice should be given, except in a truly dangerous emergent situation," said activist and lawyer Armin Wandrewala. Some motorists had their vehicles impounded without being given a proper reason. "I was out to buy provisions and was barely 500 metres from home at Jogeshwari's Society Road when a cop asked me to halt and my bike keys were taken away. I had a helmet and a mask on, but despite asking the cops repeatedly, no reason was provided. At least 100 others were asked to halt and the road was packed," said Bhagyesh Raut, a local. Another motorist said he was detained at Kherwadi police station while he was going to the office around 11am.
Netizens posed questions on a lot of practical problems. "I'm a professional freelance photographer. How do I prove to the police each time that I'm going for a shoot or collecting equipment? All of us don't have offices or personal studios," tweeted Kartik Sadekar. Baker Shraddha Agarwalla tweeted whether it would be considered an official trip if she went out to deliver birthday cakes for orders that she had taken last week. People also expressed anxiety over how they would be able to look after old and ailing parents who lived alone in another corner of the city. "How do the police know if someone is telling the truth. I could always say I'm going to office and go to a salon instead," said Pragya Sharma, a motorist.
Government officials said that even when the relaxations were announced in Unlock 1.0, long-distance travel for non-essential reasons was not permitted. On Sunday, chief minister Uddhav Thackeray once again appealed to avoid unnecessary travel. "Just because we have given relaxations does not mean everything has normalised. The Covid crisis is not over and we have to tread cautiously," said Thackeray.
"Would it not be a better idea to police beaches, public places, and promenades rather than the 2km rule?" said a motorist Suresh Sharma. "If someone is a mason or a plumber wanting to buy work-related material from markets in south Mumbai, what proof could he possibly show?"
(With inputs from Bhavika Jain)