NAVI MUMBAI: A tired and hungry migrant worker who was trying to somehow go back to Deoria in UP by train, suddenly collapsed by the roadside and fainted near the HDFC circle, New Panvel, on Friday evening. Alarmed passersby and local residents then tried to revive him. However, as the poor worker did not respond to the people's frantic calls, some members of the public called up the Navi Mumbai police helpline.
It was heartening to see compassion among the citizens as some rushed to bring electrolyte water and biscuits in order to revive the fainted man, who finally looked up after water was sprinkled on his face.
A New Panvel resident, Salim Khan, put on gloves to physically help the worker stand up again, while an IDBI bank security guard and social activist A Jainamma of SEAL Ashram in New Panvel offered him food and water. By then, the local police personnel also arrived at the scene.
After fully coming back to consciousness, the worker identified himself as Loha Rajbhar (20), a native of Deoria, who used to work at a construction site in Panvel. "I had not eaten anything the whole day, but I walked a lot in the hot afternoon to go to Panvel railway station in order to go back to UP. I have no job here and have run out of cash. I was very thirsty when I fainted here," he told the concerned crowd.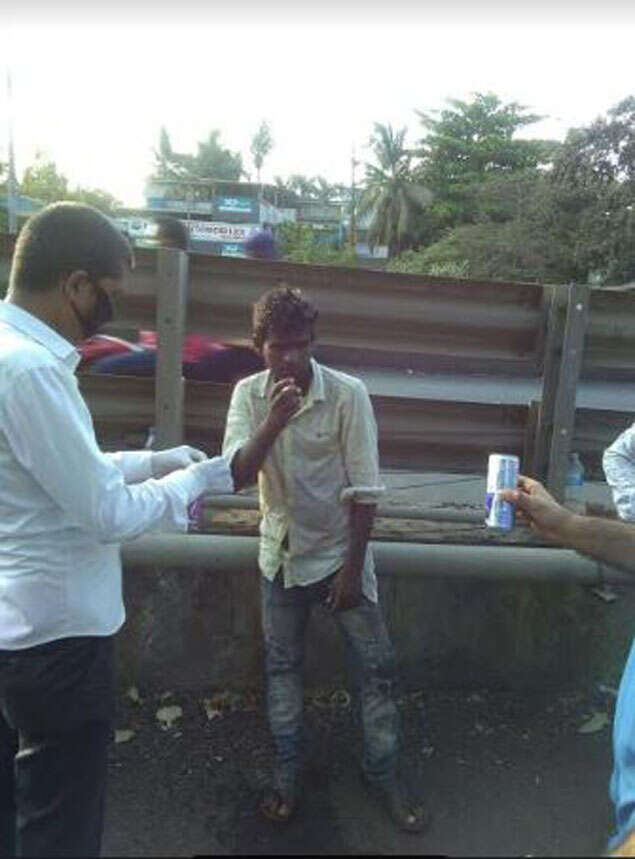 A kind local resident also got him a new shirt to wear.
"It was really nice to see the genuine concern among the common people who did everything within their means to help out this poor worker, who was very hungry and dehydrated due to the hot weather. We at SEAL Ashram have also contacted the Panvel railway station staff and the local police to complete the process of sending him back home," said social worker Jainamma.
Since Loha Rajbhar had vacated his rented room in Panvel taluka earlier in the day, another good Samaritan took him to a workers' site close to Panvel station to put him up for the night. "We did not know who this man was, but when people saw him collapse on the road they all got together to help him out. We felt happy when he smiled at us after he was okay," said Salim Khan.