NEW DELHI: The National Capital Region (NCR) consists of some of the most polluted cities in the world with Delhi often stealing the limelight, especially during winters when PM2.5 and PM10 levels cross 10 times the Indian safe standards.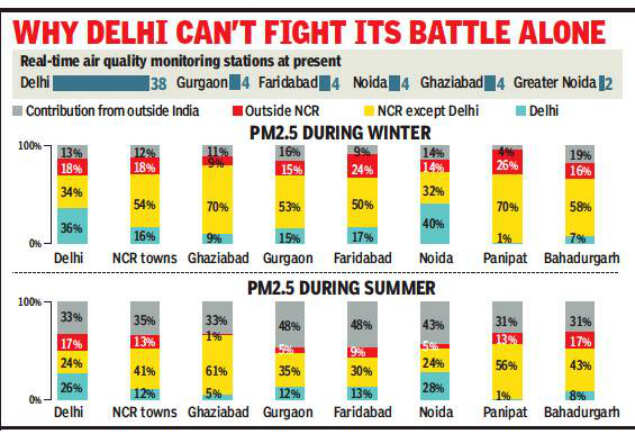 The Graded Response Action Plan (GRAP) rolled out by Environment Pollution (Prevention and Control) Authority (EPCA) every winter to tackle pollution applies to the entire NCR. However, most plans have largely centered around Delhi, despite data showing that Noida, Gurugram, Faridabad and Ghaziabad are potentially more polluting. The air quality monitoring stations across the capital are also far more than other more polluting regions.
Coal-based power plants at Rajghat and Badarpur have been shut, while industries have switched to cleaner fuel. Diesel vehicles, too, cannot be registered in the capital. In comparison, the neighbouring areas still have 11 coal-based power plants within a 300km radius of Delhi.
Experts believe that without considering NCR as an airshed and ensuring regional cooperation, Delhi and cities like Gurugram, Noida, Ghaziabad and Faridabad cannot show improvement alone.
A Teri source-apportionment study in 2018 found that Delhi only contributed 36% to its own pollution in winters, with 34% coming from NCR and the remaining 30% from outside. This holds similar for other NCR cities, which often receive transboundary pollution.
Anumita Roy Chowdhury, executive director, research and advocacy, Centre for Science and Environment, said, while Delhi has cleaned up its act, the NCR needs to follow suit, however, this won't be possible if states act individually.
"Delhi has implemented the clean fuel policy and coal has been phased out. CNG and petrol are being given a push, alongside PNG for industries. However, this is not the case with NCR. A large number of polluting industries are still functioning across the neighbouring states, which means air quality cannot improve in Delhi if the surroundings are polluted," Roy Chowdhury said.
Aarti Khosla, director, Climate Trends, an NGO, said an airshed approach has worked abroad and was needed across the Indo-Gangetic plains. "Tackling it state-wise has its limitations, especially in a region where pollution is widespread," she added.
Tanushree Ganguly, programme associate, Council on Energy, Environment and Water, said, coal-based power plants alone account for a large chunk of pollution in NCR. "Our assessment of the existing emission inventories for Delhi finds that the contribution from power plants alone ranges from 3-11% and all the 11 coal-fired plants in NCR are situated outside Delhi," she said.
The studies suggest that across the country the contribution of sources outside the city boundary could range from 15-50%. "While Delhi's clean air action plan includes multiple measures that call for coordination between states, no interstate coordination mechanism has been established. Hence, to meet the democratic demand for clean air in Delhi-NCR, government-led regional coordination is must," said Ganguly.
Ashish Jain, founder director, Indian Pollution Control Association, an NGO, said that pollutants see no boundaries, which make it a problem for the entire region and not the state alone. "They travel under the impact of various atmospheric conditions, so each state cannot have its own strategy or policy and interstate cooperation is crucial," he added.