NEW DELHI: Moving swiftly towards taking the Delhi riots cases to their logical conclusion, Delhi Police has filed 79 chargesheets against 410 people for offences ranging from murders and arson to assembling unlawfully.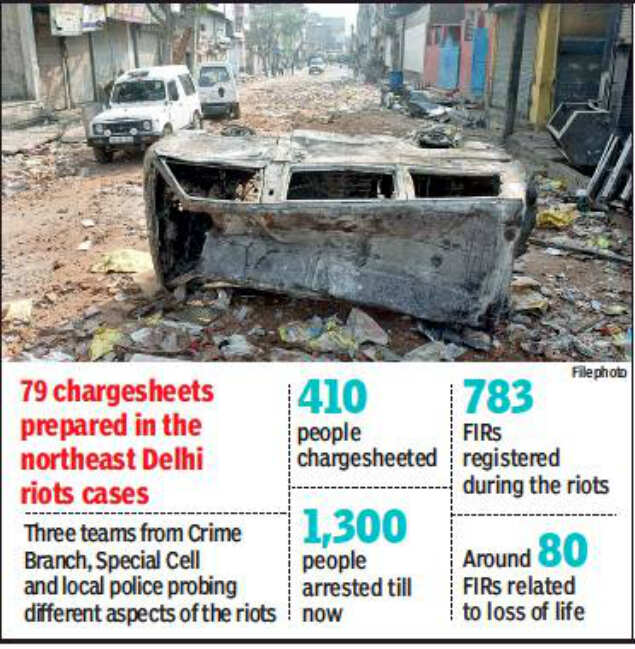 Delhi Police spokesperson, Mandeep Singh Randhawa, said that out of these, the Crime Branch had arrested 104 people and the local police 306.
Police claim that the murders were either due to instigation by a group of people or in retaliation to the violence that took place between December 24 and 26. They are also probing a conspiracy that was allegedly hatched through WhatsApp groups that were formed during or before the riots.
The role of activist groups, such as India against Hate and Pinjra Tod, is also under the scanner. Names of Umar Khalid, Sharjeel Imam and Khalid Saifi figured during the interrogation of the perpetrators of the riot, claim police.
According to police, the probe had found that the violence at Jamia Millia Islamia on December 13 last year was the beginning of a conspiracy that later turned the anti-CAA protests into violent clashes with the cops. The three months long protest at Shaheen Bagh was also a part of it, sources said.
"In all these cases, the same group of people was found to be leading the protesters. They would block the road and cause inconvenience to public before getting into clashes with the cops to draw attention," said a police officer.
"During the interrogation of suspended AAP councillor Tahir Hussain and Rajdhani Public School owner Farooq Faisal, who have been charged with leading and instigating the rioters, it was found that the purpose of the riots was to embarrass the government during the US President Donald Trump's visit to India," sources added.
"For the same reason, the members of the activist groups had led the women protesting at the roadside in Jafrabad and Chand Bagh to block the Jafrabad main road and Road Number 66."
Police claim to have recovered several WhatsApp chats in which people opposing the move to block roads were termed as traitors by the protesters. Police have also come across other WhatsApp groups that were formed to avenge the loss of life and property.