JAIPUR: During the lockdown, 37,176 people were fined for not wearing face mask in public places and 276 for spitting in public.
The total amount compounded for various violations under Rajasthan Epidemics Ordinance is nearly Rs 1.3 crore. Apart from this, Rs 7.7 crore were collected under Motor Vehicles Act. Cops also registered 213 FIRs in social media related cases against 295 accused out of which 222 were arrested.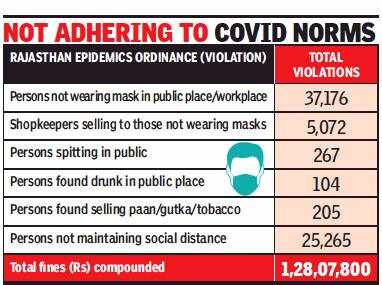 Police also kept a strict eye on those spitting in public, not adhering to social distancing etc and 2,080 people were penalised in just 24 hours between Saturday and Sunday. Between the same duration, Rs 3,51,800 was collected in fines from across the state.
According to the data compiled by police, total FIRs registered under violation of prohibitory orders (quarantine norms) were 3,412 against 6,886 accused out of which 5,234 people were arrested and in 1,979 cases, chargesheet has been submitted.
In the social media-related violations, 33 cases have been chargesheeted in Rajasthan and besides the arrest by state police, Special Operations Group (SOG) also arrested seven people in similar category of violations. No complaints were lodged related to social media over the weekend.
"Our personnel worked round the clock to ensure that lockdown is followed and we took swift actions against the violators to prevent the spread of coronavirus. We are ensuring that all guidelines are followed and coordinating with volunteers, community workers as well as others. The vigilance will continue in future as well", said B L Soni, DG, Rajasthan Crime Branch.
In over two months of lockdown, under the Essential Commodities Act, 132 FIRs were registered and 85 people were arrested while 22 cases were chargesheeted though no fresh complaints were registered since Saturday.
Under preventive action, 18,385 people were arrested 4,22,268 were penalised as per the MV Act while 1,40,340 vehicles were seized.