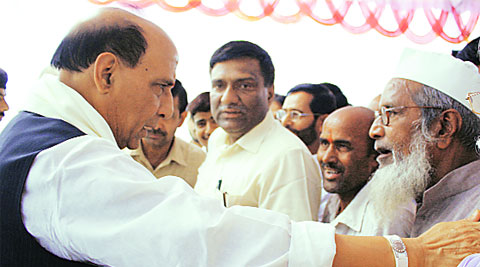 BJP national president Rajnath Singh with supporters at his official residence in Lucknow Thursday. Vishal Srivastav
BJP national general secretary and state party in-charge Amit Shah Thursday justified the candidature of party president Rajnath Singh from Lucknow saying it will help win seats across UP.
Addressing a meeting of party workers at Saraswati Sishu Mandir, a school of RSS, Shah said party needs to win maximum seats in UP to get power in Delhi and that was the reason Rajnath has been fielded from Lucknow.
Atal Bihari Vajpayee's long-time close associate Shiv Kumar, who remained silent during Rajnath's press conference Wednesday, today said that it was former prime minister's wish that Rajnath wins from Lucknow.
In his address, Rajnath said that he considers sitting Lucknow MP Lalji Tandon as his patron. He also claimed, "I have always decided that I will contest from any seat where the number of people from my caste will be minimum." He announced to file his nomination in Lucknow on April 7.
About the reports of terror threat to Modi, Rajnath said, "Will now victory be gained by violence?" He also said that BJP and its alliance partners will win at least 15 seats in Tamil Nadu and more than 30 seats in Bihar.
Lucknow MP Lalji Tandon, who was sore after he was denied ticket from Lucknow, today said that he was happy to hand over the responsibility of Lucknow to Rajnath.
📣 The Indian Express is now on Telegram. Click here to join our channel (@indianexpress) and stay updated with the latest headlines
For all the latest India News, download Indian Express App.