NEW DELHI:
Delhi Metro
is finally going to resume its services from Monday after more than five months. But for commuters, waiting eagerly for the capital's lifeline to come back on track,
Delhi Metro Rail Corporation
(
DMRC
) has one request — "break the peak".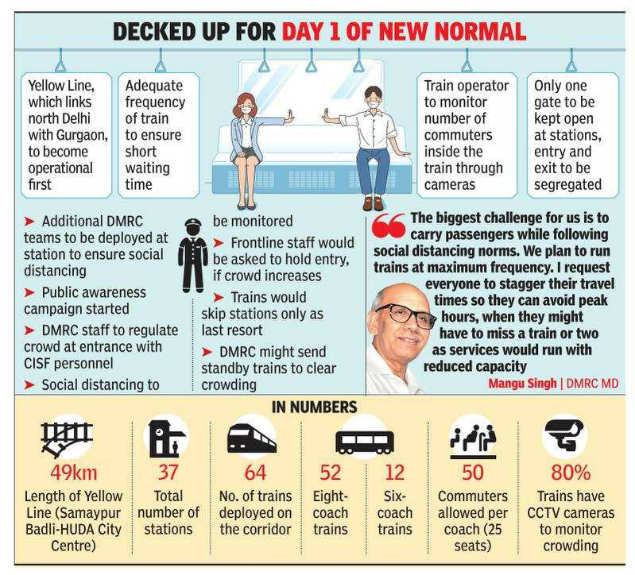 The services are opening in a graded manner and Yellow Line (Samaypur Badli-HUDA City Centre), which connects north Delhi to Gurgaon, will be first off the block.
DMRC plans to operate trains at the maximum frequency possible, but with not more than 50 commuters allowed per coach — 25 seating and 25 standing — its carrying capacity is going to be massively reduced. DMRC has urged people to try travelling at off-peak hours too.
"Delhi Metro services are restarting and the biggest challenge for us is to carry passengers while following social distancing norms," DMRC managing director Mangu Singh said. To maintain social distancing, the number of passengers in a coach "will be much less compared to our capacity earlier and the biggest problem will be the crowding at peak hours", he said.
Singh said DMRC planned to operate train services at maximum frequency and if commuters could somehow avoid the peak hours, the metro would be able to carry the maximum number of passengers through the day. "If they perform their journey at peak time, they may end up missing a train or two because if the arriving train is already running at full capacity, they won't get entry as per the new norms."
If commuters change their office timing a little, employers won't have any objection keeping the pandemic in view, said Singh. "It will be a big help for DMRC if commuters do this."
A source said with educational institutions closed and many people working from home, DMRC isn't expecting a huge rush on Day 1. With only Yellow Line operating on Monday and Tuesday, the interchange rush will also not be there.
DMRC will depute frontline teams at station entrances, along with Central Industrial Security Force personnel, to regulate crowding. "Officials at security checkpoints and concourse areas will gauge if social distancing is being maintained and if needed, ask frontline teams to hold entry," an official said. "Only one gate will open at most stations and it will be segregated for entry and exit."
"Apart from Phase-I trains, 80% of trains have CCTV cameras, through which train operators will monitor social distancing and relay information to the operation control centre, which will inform station controllers," he added. "In case a train is arriving full, announcements will be made at the platform, asking commuters to wait for the next train. Only as a last resort, trains will skip stations." Empty standby trains may be run if trains keep arriving full at stations in the middle of a corridor.