Reduce Mortality Rate by Ensuring Best Treatment System

Chief Minister Shri Chouhan Starts Analysis of Every Corona Death
Reviews the Situation and Arrangements of Corona 


भोपाल : शुक्रवार, मई 29, 2020, 22:26 IST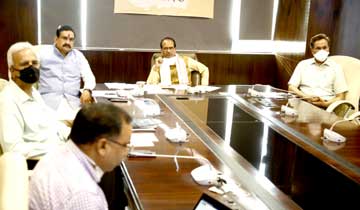 Chief Minister Shri Shivraj Singh Chouhan has said that the death rate has to be reduced by ensuring the best system of corona treatment in the state. Every life is precious to us. Even a slight lapse in treatment will not be tolerated. Chief Minister Shri Chouhan today started analysis with senior officials and doctors through video conferencing of every death due to Covid. Firstly, a detailed analysis of the deaths due to Covid-19 was done with the Dean and Medical Specialist of Medical College Indore.
Health Minister Dr. Narottam Mishra, Chief Secretary Shri Iqbal Singh Bains, DGP Shri Vivek Johri, Additional Chief Secretary Health Shri Mohammad Suleman, Principal Secretary Medical Education Shri Sanjay Shukla, Commissioner Public Relations Shri Sudam P. Khade were present on the occasion.
Control Status of the Community Spread
Chief Minister Shri Chouhan said that in order to ensure that no community spread prevails anywhere in the state, all the collectors should ensure intensive survey, contact tracing, testing as well as strict lockdown in infected areas with all other precautions.
Mortality Rate of 4.3 Percent in Madhya Pradesh
ACS Health Shri Suleman said that the mortality rate of corona in Madhya Pradesh is 4.3 percent, while the death rate of the country is 2.8 percent.
No Death Should Happen, Be Careful
Reviewing the Rewa district, Chief Minister Shri Chouhan directed that utmost care should be taken to ensure that there are no deaths from Corona in the district. The collector informed that there were 35 corona positive patients in the district, out of which 10 have been discharged. The number of active patients is 25. No death in the district from Corona has been reported yet.
Migrant Labourers do not Spread Infection
Chief Minister Shri Chouhan instructed that complete care should be taken to check spread of infection from migrant labourers. Ensure their health test and proper quarantine arrangement he added. Have all necessary arrangements at Quarantine Centers. There should be a good arrangement of healthy food, clean water, fans and toilets in Isolation for the labourers.
Reduction in Active Cases
Additional Chief Secretary Health Shri Suleman said that there has been a decrease in active cases in the state. On May 29, total 192 new corona-infected patients were found, while 219 healthy patients discharged. The number of active cases in the state is 3042. The state's corona recovery rate has gone up to 56 percent, the country's recovery rate is 42.8 percent. Today, 28 healthy patients have gone home from Hamidia Hospital Bhopal.
Ujjain's Trauma Center Ready
ACS Health informed that the trauma center at Ujjain is all set as a Covid hospital. Amalatas Hospital Dewas has also been contracted. Now RD Gardi Hospital is not required.
Three Senior Officers to keep Special Vigil on Indore, Ujjain, Bhopal
It was decided in the meeting that 3 senior officers will keep special watch on the corona related arrangements of Indore, Ujjain and Bhopal. ACS Health Shri Suleman will take special care of the arrangements in Indore, Principal Secretary Shri Faiz Ahmed Kidwai in Bhopal and Principal Secretary Shri Sanjay Shukla in Ujjain.
Congratulates for Best Procurement Work
Chief Minister Shri Chouhan congratulated all concerned for best procurement work in the state. He said that 120 lakh 81 thousand metric tonnes of wheat has been procured exceeding target of purchasing 100 lakh metric tonnes in the state. He appreciated for procurement arrangements. He said that even after May 31, if there is any need of purchase in some procurement centers, they should be kept operational. Wheat of every registered farmer will be purchased
223 Crore Grant to Madhya Pradesh under Swachh Bharat Mission
ACS Shri Manoj Shrivastava informed that Madhya Pradesh has been given an incentive grant of Rs 223 crore by the World Bank for good work under the Swachh Bharat Mission. He informed that 4 lakh 18 thousand labourers have been given work under the Shram Siddhi Abhiyan. About 81 percent of MNREGA works are related to water-catchment against 66 percent of last year.


Pankaj Mittal